Nov 05 2009
What was driving the wave of elections in VA and NJ this week? The deteriorating jobs market was and is the driver, which is where the average American voter connects to the 'economy' in a visceral way. The crux of the Democrats' problem with the voters is they have failed miserably on this matter.
I predicted all through the spring that the liberal belief in the fiction that government can spend and stimulate our economy would be their undoing. I noted people would see all this spending and no jobs for over A YEAR after Obama and Pelosi and Ried rushed out that faux stimulus bill claiming it would turn things around. I knew that if we went through Tax Day and Memorial Day and things were not getting better people would start to get agitated. I knew if the situation prevailed through July 4th the mood would begin to get ugly.
It would be obvious that if the situation persisted through Labor Day and Holloween that anger would start to turn to anger – and it did in most races (the one exception was NY-23 where conservative purity was being trumpeted as the higher priority). Â Exit polls show that those concerned with the economy (and the impact a government take over of health care and energy taxes would have on it) pushed Independents 2 to 1 against Democrats.
This is just the beginning of the wave. The new weekly unemployment numbers came out today, and there is a reason Congress is rushing to extend emergency unemployment support – we are in a job emergency situation. We are not creating new jobs in sufficient numbers to offset the lost jobs. Every week for the last few months 500,000 people have submitted FIRST TIME unemployment claims. This week is no different. But what is really worrying is the growing masses of people who have been out of work so long they have gone through the normal unemployment benefits and now are clinging to the last edge of the safety net.
The program is called the Emergency Unemployment Compensation (EUC) and its roles have been growing at a shocking rate ever since the liberal fictional stimulus bill was passed (click to enlarge):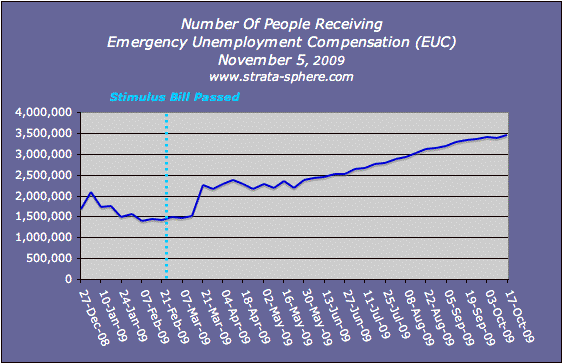 Since the Democrats passed their naive stimulus bill over 2,000,000 people have been added to the EUC rolls! THAT is the undeniable result of the stimulus bill. Not the crap the PR propagandists in the White House try to push on us. America is fed up with their BS.
What did two generations of debt buy us this year? Fake job 'created/saved' numbers – see here and here for my discoveries. And check out this list of whacky and crazy jobs we went into massive debt to create:
– $30 million for a spring training baseball complex for the Arizona Diamondbacks and Colorado Rockies.
– $11 million for Microsoft to build a bridge connecting its two headquarter campuses in Redmond, Wash., which are separated by a highway.
– $430,000 to repair a bridge in Iowa County, Wis., that carries 10 or fewer cars per day.
– $800,000 for the John Murtha Airport in Johnstown, Pa., serving about 20 passengers per day, to build a backup runway.
– $219,000 for Syracuse University to study the sex lives of freshmen women.
Some Head Start preschool programs reported that stimulus money saved the job of every staff member who received a cost-of-living pay raise, according to their filings. Some colleges and universities counted every part-time student work-study position as a full-time job, according to their reports, which are published online at recovery.gov.

And some low-income housing landlords whose decades-old contracts with the federal government were funded by the stimulus this year reported a total of 6,463 employees as having jobs linked to the stimulus package.
It all stinks of an expensive con game (while Nancy "I'm Still Sane" Pelosi claims Tuesday was a big win for Democrats). Crooks and nuts in charge of the DC insane asylum.
The wave that began this spring and began to be noticed this summer in the Tea Parties across this country is only beginning to build. It was seen in the votes Tuesday, and even Gallup provides its usual understatement on the Democrats' peril:
Gallup's generic congressional ballot provides a summary measure of current voting intentions for Congress. This currently suggests the 2010 midterm elections could be highly competitive, and possibly a strong Republican year if usual turnout patterns prevail.
What if turn out patterns not only prevail from Tuesday, but expand? What then? Then 1993 will look mild in comparison. 2,000,000 Americans are trying to survive Obamanomics. Tens of millions are out of work or underemployed. And the Democrats deny there is a rising tide of rejection heading their way?
17 Responses to "It's Still The Unemployment Driving The Electorate"