Oct 19 2009
Major Update Below
Remember the rush last February to get a stimulus package through Congress so the Democrats could turn the economy around and start creating jobs? Remember almost 8 months ago, when it passed, all the hype and promises spewed by the Democrats?
Here we sit 8 months later, with unemployment and underemployment creeping ever higher, and the Democrats are trying to pat themselves on the back for a job well done. In what has got to be the mother of asinine PR stunts, the Obama administration has announced the stimulus package has saved or created ….
Wait for it …
Wait for it …
God help us from arrogant incompetents. One left wing dupe has the nerve to claim (or actually admit)Â this was always how it was expected to go (like we can't remember or Google the hype?).
As was planned from the start, in fact, only a small portion of the $787 billion has been spent. The Council of Economic Advisers recently issued a comprehensive report on the impact of the stimulus. "As of the end of August, $151.4 billion of the original $787 billion has been outlaid or has gone to American taxpayers and businesses in the form of tax reductions," the CEA reports. That's 19 percent. If projections made for September expenditures are right, "between one-fifth and one-quarter of the total $787 billion" was spent by the beginning of October.

…

In other words, nearly eight months after its passage, a large majority of the stimulus has yet to start impacting the economy—as was the plan.
Well if this delay in getting the money into the economy in order to create jobs was by design- Â then it was a completely eff'd up design! This is why Presidents Kennedy, Reagan and George W Bush used across the board tax cuts to stimulate growth and create jobs. They work quickly, they minimize the suffering. They are a better plan!
All the liberals have done is soak the taxpayer and corporations, let them money get suck in the bowels of the bloated federal bureaucracy and create massive historic deficits. Now we learn this was by design! Wow, that just makes it all better, doesn't it? For 8 months I have said this liberal fiasco would never begin to spend money for at least a year. And now all of sudden I am being proven right because, that was the plan along.
Since spring I have been tracking 6 federal organizations and their share of the stimulus spending designed for make work projects (supposedly to create jobs). Here is the latest data on the $105 billion I have been tracking (1/3rd the jobs projects), and as can be seen nearly NONE of the job creating money has been spent to date.
In the first graph there are 4 sets of columns showing (from left to right): (1) the amount originally budgeted for stimulus programs in the faux stimulus bill for each of the 6 organizations I have been tracking, (2) the amount allocated to date to specific job-creating programs in that organization, (3) the amount actually spent to date creating jobs and (4) the amount left unspent from the original total budget. (click image to enlarge)
The second chart translates the dollar amounts for the last three sets of columns from  the previous chart into percentages of the budgeted amounts for each organization, showing what is the percent allocated, percent spent and percent unspent. (again, click image to enlarge)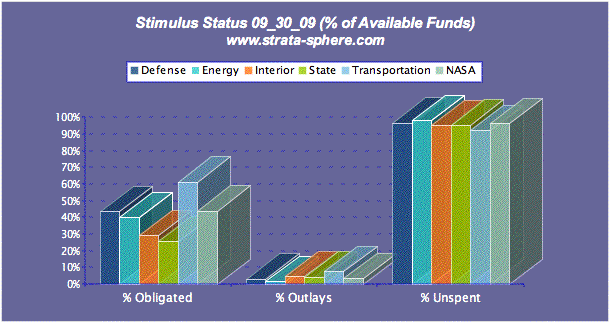 Summary:
$105 billion was budgeted for job creation efforts across the 6 organizations (1/3rd of all job creating stimulus programs in the stimulus bill).
50%, or $52.4 billion, has been allocated to programs which can be then competed and/or contracted
Just 4.6%, $4.87 billion, has been spent creating jobs
Over 95% of the money, or $100 billion, budgeted for job creation in these organizations has yet to make its way out of the federal bureaucracy and into the economy.
And this was all by design!
Was this was part of the design as well:
Despite concerted government-led and lender-supported efforts to prevent foreclosures, the number of filings hit a record high in the third quarter, according to a report issued Thursday.

"They were the worst three months of all time," said Rick Sharga, spokesman for RealtyTrac, an online marketer of foreclosed homes.
Many foreclosures now are directly linked to the spread of unemployment and underemployment. But remember, that was the plan! It was all part of the grand liberal scheme!
And I guess this was part of the plan too:
A bad economy and low inflation are starting to drag down wages for millions of everyday workers and freeze benefits for millions of retirees.

Average weekly wages have fallen 1.4% this year for private-sector workers through September, after adjusting for inflation, to $616.11, a USA TODAY analysis of Bureau of Labor Statistics data found. If that trend holds, it will mark the biggest annual decline in real wages since 1991.
What a an impressive creation these liberals have wrought. What a benefit to America. Now we have 30,083 new jobs as an answer to all our woes.
Except each week we see 500,000+ first time unemployment claims (here are last week's numbers which were considered a good sign). The vaunted, imperative and successful stimulus bill barely dented this one week's number. Those 30,000 jobs over 8 months is roughly 5% of one week's new claims.
There are 6,000,000 people on unemployment insurance (same link), which means those 30,083 jobs represent 1/20th of 1 percent of that problem. Only 99.95% more to go!
As of September 19, there were 3,321,210 people clinging to the last rung of unemployment assistance (called the EUC – see graph below, click to enlarge).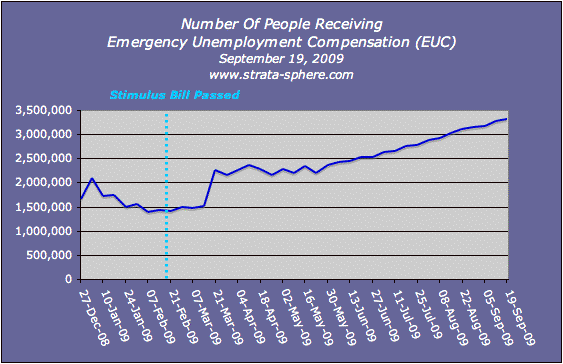 That means the stimulus bill has found a solution for 9 tenths of one percent of the people on EUC. Only 3,291,320 more jobs to go! Given the current rate of job creation (30083 jobs per .75 years, carry the 1 …) means we should have this wrapped up some time in 2091. Can't wait!
Of course, not many of my kids my still be alive by then.
Notice that little blue line on the graph? That is when the stimulus bill passed. See what happened after that? So few jobs were being 'created or saved' that people kept slipping closer and closer to the end of the safety net. There has been a 128% increase in the EUC roles since the stimulus bill passed. Thank God the liberals found those 30,083 jobs, we would be in deep doo-doo.
Here's the problem with this bogus fanfare on jobs: it is not even round off error on the problem facing this country. The number of jobs being lost each week has leveled off, and even begun to shrink a bit, but the hole we are in is massive. Look at the trend lines for unemployment (U3) and underemployment (U6):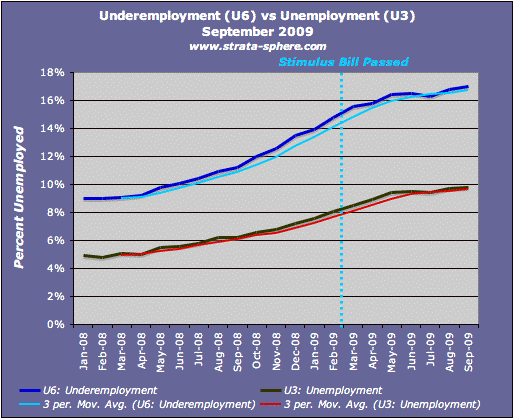 They are not turning around. We are not in a net positive job creation posture. Now look at the number of weeks (average and mean) people are staying on unemployment (probably not counting the two phases of EUC benefits).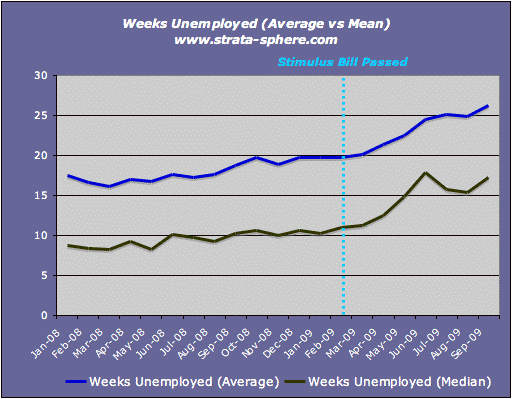 The time on unemployment is getting longer and longer, and more and more are going on EUC, that is not a good sign.
15 million people are looking for work. 30,083 jobs over 8 months is not going to work, I don't care how much it was 'all part of the plan'. When the new data comes out on the state by state numbers next week we're going to see those states in the deepest trouble leveling off, but they won't be getting better. And we will see the cancer of Obamanomics spreading across the country, destroying families and lives.
I said this faux stimulus scheme was going to be a disaster, an albatross around the President's (D) and Congress' (D) necks. Sadly, this is one time I would have loved to have been wrong.
Wait until we pass Thanksgiving and Christmas and New Year's Eve, with these numbers just getting worse and worse. And then come back and tell us this was all part of the grand plan (and running above expectations!).
All data shown was provided by the US Government from the Recovery Bill site, the Bureau of Labor Statistics and the Department of Labor.
Major Update: The news media is starting to finally put 2 and 2 together concerning the failed liberal policies (though it is just barely sinking in), especially when we face up to the wall of debt we and our children's children now owe:
The federal budget deficit soared to a record $1.4 trillion in the fiscal year that ended in September, a chasm of red ink unequaled in the postwar era that threatens to complicate the most ambitious goals of the Obama administration, including plans for fresh spending to create jobs and spur economic recovery.
We don't need 'fresh spending'. What ever they budget today will take 1-2 years to get into the economy because of the federal rules on contracting. What we need are cuts in spending, not more of the same. Look at the accompanying graph! Look at the Bush years verses one year of Obama. It's frightening in its spending and its failed results.
[Update: Read the comment on the deficit by reader WWS, very interesting theory.]
We have created massive deficits this past year, and we have very little to show for it. Wall Street seems to have stabilized and is back to paying out big bonuses. But Main Street is still hurting. Main Street has every right to throw these incompetents out and start over. Can't be any worse than what we have seen so far.
As this person notes, President Obama and is PR BS is more lack Bernie Madoff than John Kennedy:
Take one of this year's most astonishingly successful federal-stimulus contracts touted on the administration's Web site, a grant for a Head Start program in Danville, Va.

With less than $35,000, the Obama administration managed to create or save 50 jobs in Danville, they boast.

No one was more mystified by this claim than the man who keeps the books for the Community Improvement Council, which won the federal grant.

"It hasn't created jobs, but it's helped improve 50 jobs," Roy Garner explained.

The money has gone for staff training, pay raises and playground repair.
So how exaggerated is that claim of 30083? I mean $35,000 is equal to one low end or entry level job. Yet by Obamamath it's really 50 jobs. We have been conned, we are being conned and we are being robbed of our hard earned money for nothing.
It seems we finally have the infomercial presidency, including all the quality of an infomercial's cheap and shoddy products.
17 Responses to "Liberal's Stimulus Plan An Abysmal Failure"