Oct 02 2009
Well, here we are a little over 7 months since the faux liberal stimulus bill went into effect (2/17/09) and there has been absolutely no job stimulus. The latest unemployment numbers are out and we still see ever increasing unemployment (U3: now at a 26 year high) and underemployment (U6: reaching a staggering 17%). The Department of Labor defines these two metrics of economic pain thusly:
U3: Total unemployed, as a percent of the civilian labor force (official unemployment rate)
U6: Total unemployed, plus all marginally attached, plus total employed part time for economic reasons, as a percent of the civilian force plus all marginally attached workers
The fuller measure (U6) really paints the picture of the economic catastrophe that is today's job market. I have been tracking both indicators and the trend lines have some good and bad indicators (click to enlarge):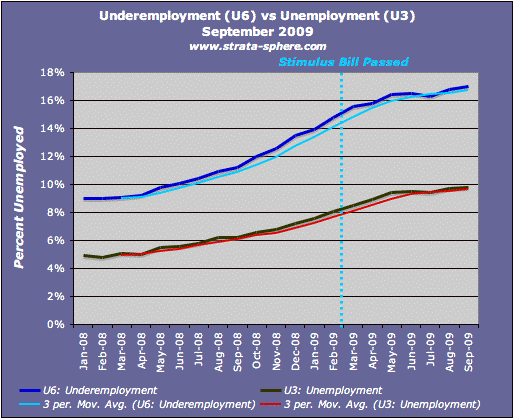 As the above chart shows there has been little to no effect on the job picture for the US economy since the so-called stimulus bill went into effect. In this version I overlaid 3 month rolling average trend line to each metric to show that we are starting to reach a potential plateau or bottom (that's the only good news).
But this simply proves again that all the government spending on new jobs promised in February (over 95% of which is still stuck in the bloated government bureaucracy, as seen in the latest government data) is coming in months too late to stop the damage. Add in the 50% unemployment for young adults and we have a disaster which will be playing out for years to come.
I have said it since February, the congressional liberals' allergic rejection of tax cuts to stimulate small and large business, as well as cuts to individuals to prime consumer spending, led them down the idiotic path of pushing through a 'too little, too late, restricted to too few' government jobs program.
But the unemployment and under employment numbers only tell a part of the full, bleak story. The other part of this nightmare is that there really are no new jobs being created. This can be seen in the how long people are on unemployment benefits, and how many people have had to move to Emergency Unemployment Compensation (EUC 2008).
The following data, culled from the weekly department of labor unemployment reports (they do not provide this metric on a monthly basis) shows a ballooning number of people who have burned through the normal unemployment safety net and are now sitting on their last support network.
The claim this administration has 'saved' 1 million jobs is ludicrous – and demonstrably false. 1.86 million people have had to move onto the EUC program since the faux stimulus bill was passed (now 3.275 million are on EUC). It is clear as day that there were no jobs 'saved' (let alone created) as the EUC roles explode one month after the stimulus bill went into effect, and these rolls continue to grow up to today.
As usual, it is important for people to recall the exaggerated promises the DC liberals made when they rushed through the faux stimulus bill:
I find it the epitome of arrogance that anyone in the White House or Congress would be claiming they did anything to help the nation's job situation. As the results clearly show, the stimulus bill has been a complete failure (just like our bid for the 2016 Summer Olympics). The data cannot be denied.
Right now we have an historically painful 15 million people unemployed:
There were 15.1 million unemployed workers across the country last month, nearly double the total at the beginning of the recession, 7.6 million in December 2007.
Emphasis mine. While the number of new jobless claims are slowing a bit each month, each month is still negative by 100's of thousands of jobs. If you look at the trend, this net 'jobs destruction' could go on through Christmas.
Note also that given the fact the 17% underemployed rate is 1.75 times higher than the 9.7% unemployment rate, a simple calculation reveals that over 26 million people are either unemployed or underemployed! That's a lot of pain and suffering for the voters.
Are we to believe those mythical 1 million 'saved' jobs are a good sign in the face of this large of a problem? Or is it actually a measure of the depth of incompetence regarding the liberal democrats now running Congress and the White House? Some more math gives us the answer.
The  supposedly 1 million 'saved jobs' in the face of a 26 million job shortfall is a useless 3.8% solution. That leaves 96% of the problem unanswered – even assuming the administrations mythical 'saved jobs' BS. That is a failure in my opinion.
How's that Hope & Change working for everyone out there?
The state-by-state data comes out mid-month, and it probably is not going to look too good either.
19 Responses to "Obamanomics An Abomination"