Sep 27 2009
The bad economic news keeps rolling in this weekend as we learn a generation of young people may have permanent scars as a result of the failed liberal stimulus bill and its moronic reliance on government jobs programs to lift this nation out of the Great Recession:
The unemployment rate for young Americans has exploded to 52.2 percent — a post-World War II high, according to the Labor Dept. — meaning millions of Americans are staring at the likelihood that their lifetime earning potential will be diminished and, combined with the predicted slow economic recovery, their transition into productive members of society could be put on hold for an extended period of time.

… Young workers have been among the hardest hit during the current recession — in which a total of 9.5 million jobs have been lost.
Now we can all see how President Obama and the Liberals in Congress have proven the foolishness behind the liberal fantasy where government can stimulate economies and create jobs. Since government is actually a leech on the back of any economy, when government reduces its strangle hold (whether it be taxes, regulation or constraints on expansion) economies usually grow. In all previous successful battles against recession and job loss, it has been the reduction of taxes which has lifted all boats, not the fact the government leach tried to spit back some of the blood it has been sucking.
Al Angrisani, the former assistant Labor Department secretary under President Reagan, doesn't see a turnaround in the jobs picture for entry-level workers and places the blame squarely on the Obama administration and the construction of its stimulus bill.

"There is no assistance provided for the development of job growth through small businesses, which create 70 percent of the jobs in the country," Angrisani said in an interview last week. "All those [unemployed young people] should be getting hired by small businesses."
Absolutely correct. There are no incentives for any hiring now or on the horizon. The government take over of health care will require taxing businesses, sucking up more money that might go to new entry level jobs. The Crap & Tax energy bill supposedly needed to fight the now disappeared global warming will suck up more money that could go to new jobs. Same thing with the tax hikes coming next year. Same thing with mountains of deficits/debt the liberals in DC are raising as a monument to their incompetence. We have nothing in hand to stimulate new jobs.
The one thing that really is sick is how the stooge news media is failing to connect the dots here. They DC liberals PROMISED their stimulus bill was going to turn things around. President Obama promised, after the bill was signed, that people would be going back to work. Here are some of his lame statements at the time:
Earlier this week, I signed into law the American Recovery and Reinvestment Act – the most sweeping economic recovery plan in history. Because of this plan, three and a half million Americans will now go to work doing the work that America needs done.

Because of what we did together, there will now be shovels in the ground, cranes in the air, and workers rebuilding our crumbling roads and bridges, and repairing our faulty levees and dams.

Because of what we did, companies – large and small – that produce renewable energy can now apply for loan guarantees and tax credits and find ways to grow, instead of laying people off; and families can lower their energy bills by weatherizing their homes.

Because of what we did, our children can now graduate from 21st century schools and millions more can do what was unaffordable just last week – and get their college degree.
8 months later and all this pie-in-the-sky BS rhetoric is embarrassing to reread. The DC liberals have done NOTHING to fix this economy. And the feds have the data to prove this.
I have been monitoring 6 government entities and their $105 billion portion of the $787 billion dollar stimulus bill. As was noted here, only $300 billion went to programs to create jobs. The rest went to unemployment funds to provide some marginal safety net for the millions who would be out of work for long periods. In a $10-12 trillion dollar economy, $300 billion is not much of a stimulus – especially when it is spread over many, many years.
Which is exactly what was wrong with the liberal stimulus plan in the first place. It was not stimulating. Of the $105 billion dollars I have been monitoring since last spring, 96% of the budgeted funds have not yet been spent, and will not be spent for years to come. Check out my latest data from the government recovery site itself.
In the first graph there are 4 sets of columns showing (from left to right): (1) the amount budgeted for stimulus programs for each of the 6 organizations I have been tracking, (2) the amount allocated to date to specific job-creating programs in that organization, (3) the amount actually spent to date creating jobs and (4) the amount left unspent from the total budget. (click image to enlarge)
The second chart translates the dollar amounts for the last three sets of columns in the previous chart into percentages of the budgeted amounts for each organization, showing what is the percent allocated, percent spent and percent unspent. (again, click image to enlarge)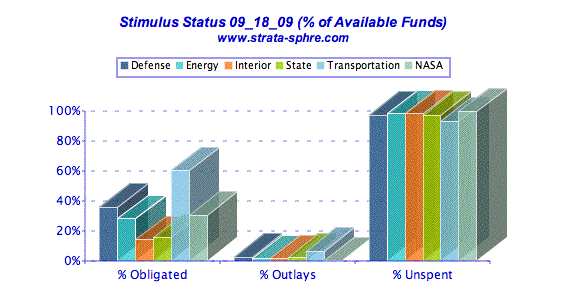 Summary:
$105 billion was budgeted for job creation efforts across the 6 organizations (1/3rd of all job creating stimulus programs in the stimulus bill). Note: To find the original budget numbers go back to the earliest weekly reports for a given organization – the numbers were removed sometime in the first 6 weeks of reporting. Right now the sites only report allocated and spent.
43%, or $45 billion, has been allocated to programs (the only bright spot in this bleak picture, with DOT having 60% of its funds at least mapped to projects)
Just under 4% has been spent creating jobs, which totals $4 billion.
Over 96% of the money, or $101 billion, of the money budgeted for job creation has yet to make its way out of the federal bureaucracy and into the economy.
8 months since the faux stimulus bill was passed and this is what the liberal government jobs program has to show for itself. Even if the money was flowing it would only flow to companies who contract with the federal government – a tiny number of companies in the grand scheme of things.
During this time period the unemployment (U3) and under-employment (U6) has been rising and rising – as the latest data from the federal government clearly shows (click to enlarge):
I noted on this chart were the stimulus bill passed. Note how the unemployment and under-employment lines don't even slow down. There was a small leveling off in July, which was wiped out in August.
There is a bottom to this recession, but it has nothing to do with the stimulus bill since 96% of its job creating money is still stuck in the bureaucracy. Any bottom we discover will come about from natural economic forces.
The trend lines on this chart should be a wake up call to the blundering democrats in DC – but they are so out of touch with reality they seem to not even remember their own promises, let alonecare less whether they kept them. Here is a chart (click to enlarge) of the Democrats' promises (dark blue line) on the stimulus bill, with the reality added along the top (in red):
Failure, plain and simple. Another measurement of the liberals' failure is the breadth of the pain of this recession. If we look at the 15 states who are already experiencing unemployment over 10% we see that this failure has hit far and wide (click to enlarge):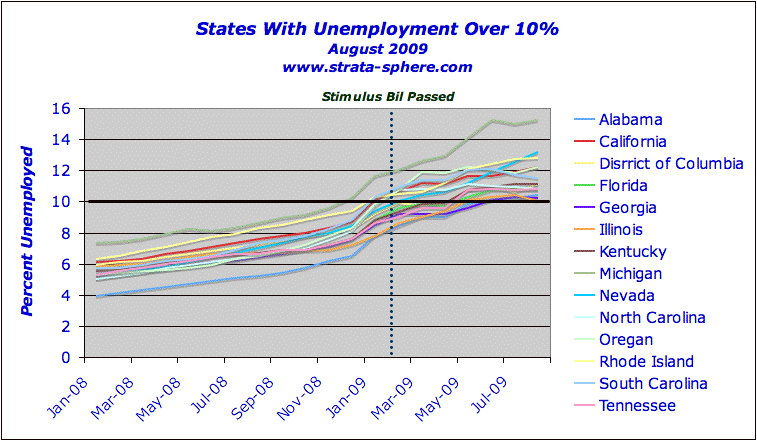 Again, I noted when the stimulus bill was passed to illustrate how inadequate it really was. Some interesting facts become clear on this chart:
When the faux stimulus bill passed there were only 7 states with unemployment above 10%, now there are 14. Clearly the stimulus bill failed this simple test.
Another interesting fact to note: None of these states were over 10% unemployment when Obama was elected President.
If we extrapolate the national under-employment rate (16.7%) across these states we would likely see all of these states with under-employment over 20%, with some reaching 30%. And we would likely see double the number of states with under employment over 15% (the nation is at 9.7% unemployment, and is over 15% under-employment). The Feds don't report U6 by states, but they should. It would really tell the true story about jobs in America right now.
These severely hit states hail from every region of the country. Â Two of these states are very important electoral states (CA and FL). Many are democrat bases, nearly all were won by Obama.
There have been plateaus reached by many of these states regarding their unemployment. Some are off their highs, others are breaking new highs (anyone can research the data here). I know the DC egomaniacs will want to take credit for any positive news, or the drop off in negative news. But the fact is they have been as impotent as they have been arrogant.
There is a chance we will begin to see a flattening of the unemployment in some hard hit areas (this recession can only go so deep). But my guess is the ripples have yet to run their course and other states may join the ranks of those suffering greater than 10% unemployment.
There is nothing stimulating in the mix or on the horizon. All of the expected actions in DC are job killers, not creators. The burden on small businesses, the engine of job creation, will be increased under Obamacare, will be increased under Crap & Tax and will be increased when the Bush tax cuts end next year. All these events on the horizon foretell a worsening economic picture, and even fewer good jobs.
Unless the DC liberals face their failures, we will see more of the same until we can clean house in 2010.
20 Responses to "President Obama And Congressional Liberals Get An 'F-' On Economy"