Nov 04 2016
The source of this data his here.
As we go into the final weekend before election day, we have some very interesting numbers in the Colorado Early Voting tallies. The Dems had jumped out to a big lead as a percentage of votes cast in the beginning. But they have been slowly dropping off as both GOP and "Other" voters ramp up. Note: The "Other" voters are dominated by Independents (a.k.a Unaffiliated).
In Colorado the registration by party this year stands at:
32% Dem
32% GOP
36% Other (of which 34.5% are Independents, the rest 3rd Party)
With that as background, lets look at how the turnout is actually doing. The first chart shows the cumulative number of votes by party: (Note: Colorado does not report results over the weekend, so Excel added the days "29-Oct" and "30-Oct" to the graphs and interpolated the lines to bridge the weekend – which is why they run flat during that period).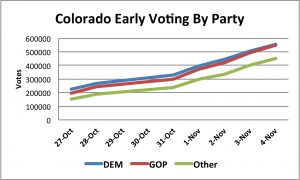 As of yesterday, the Dems have a razor thin edge of 14,181 more votes cast than the GOP. But this is out of over a million votes total, so when we translated this into percentage of the total vote it is a statistical tie:
35.7% Dem
35.3% GOP
29.0% Other
Notice that the Dems and GOP are performing well above their registration percentages. That indicates there is no ground game edge for Clinton over Trump. The Indies are the ones who are under peforming their registration numbers – so far.
But what really is interesting is the trend since Oct 27th, when I started tracking the results (early voting in Colorado began on Oct 24th):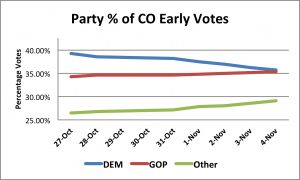 Notice how both the GOP and "Other" voters are slowly but steadily gaining ground as a percentage of the overall vote. The GOP has gone from 34.7% in the beginning to 35.3% as of yesterday.  A very consistent pace throughout.
But the Dems have been losing ground pretty much the whole time. They started with a 39.3% of the total votes, but this has dwindled down to 35.7% today. And looks like they will continue to drop through until election day.
The "Other" voters have actually seen the greatest increase in votes cast, going from 25.1% back on Oct 27th to 29% today. This is the group that may surge forward at the end here.
If Trump leads among independents, he will win Colorado.
These results are being reported today (in fact 3 hours prior to me writing this post):
The early-voting lead for Colorado Democrats has all-but disappeared just four days before Election Day.

Registered Republicans again Thursday narrowed the gap between the number of ballots they have submitted so far and the number of votes submitted by Democrats.
4 Responses to "Colorado Early Voting 11_04_16: Dem Voter Turnout Dropping"