Jul 13 2009
You can tell the liberal democrats are in deep trouble on the economy. Their last ditch, hail-mary move is to try and open up investigations against our own defenders during the years of the war on terror, which President Bush executed after 9-11. I plan to post on the latest Orwellian rewrite of history and the NSA-FISA dust up in the coming days (on travel today). To get an early  highlight check out Powerline and the recently released Inspectors General report on the Terrorist Surveillance Program.
Bottom line: after 9-11 we needed to investigate anyone who was in contact with known or highly suspected terrorists overseas. The NSA had been monitoring these communications, but because of hyper paranoid rules regarding "US Persons" who may be in the country communicating with our enemies, the NSA would literally throw away leads they gleaned accidentally.
After 9-11 these leads were simply passed to the FBI to investigate, and if there was a legitimate concern then the FBI would go to the FIS Court to gain full and unfettered wire tap authority on those persons in the US. Until this happens, only those communications with suspected or known terrorists overseas could be monitored and retained. Which means there could be a communications node who simply relays information between cells in the US and overseas masterminds – thwarting our efforts to identify and stop attacks before hundreds or thousands of Americans are killed.
The Liberal Democrats have tried this approach for 7 years under Bush, each time hitting the wall of public opinion which rationally understands intercepts from these suspected overseas hot beds of terror with persons in the US need to be investigated as soon as possible. It will be no different this time, as the GOP and conservatives remain more trusted to keep America safe.
Going after VP Cheney and others for the fact they kept this nation free from attack for all those years after 9-11 is a fool's errand. A desperate fool's errand. From fools who need to change the subject from their failed liberal stimulus experiment to something else where they can try and fling some mud. America will only look upon these acts as distractions, avoidance of the real economic security this nation requires to keep ourselves secure internationally.
It is simply a sign of how bad the liberals have screwed up that they will now try the show trial path against those who kept us safe from any repeats of 9-11. It is a sign that even they know their time is now limited, that they cannot win in 2010 or 2012 on the economy they screwed up addressing. It is a sign the wheels have come off the liberal fantasy bus. 
BTW, here is another clear sign of how bad things are for President Obama and his liberal allies in Congress: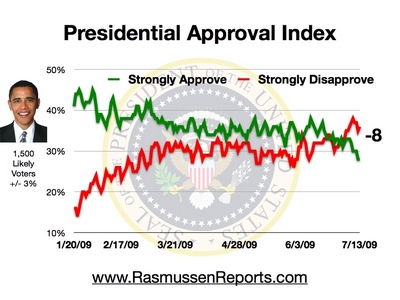 Obama's strong support numbers are sinking well  below 30%. I cannot see how they can avoid hitting rock bottom (20%) by the end of this summer's endless job losses.
7 Responses to "Coming Soon – The Battle Over The War On Terrorism"