May 10 2009
Update: It's even worse than the bottom line numbers indicate. Apparently, even with such small amounts going to actual projects and being spent, the Department of Transportation can't keep track of the money:
Counties suffering the most from job losses stand to receive the least help from President Barack Obama's plan to spend billions of stimulus dollars on roads and bridges, an Associated Press analysis has found.

Although the intent of the money is to put people back to work, AP's review of more than 5,500 planned transportation projects nationwide reveals that states are planning to spend the stimulus in communities where jobless rates are already lower.

…

The early trend seen in the AP analysis runs counter to expectations raised by Obama, that road and infrastructure money from the historic $787 billion stimulus plan would create jobs in areas most devastated by layoffs and plant closings. Transportation money, he said, would mean paychecks for "folks looking for work" and "folks who want to work."
It was all bogus PR promises. And now that the reality is hitting, that there will be no job relief, it is time to hold Obama and the Congressional Dems accountable for their failures. – end update
This is an update to my previous post discussing how the Obama- Democrat stimulus plan is not producing any new jobs. I have been tracking the 'shovel ready' jobs promised by the Democrats in February, and as of the end of April there has basically been no job creation from the stimulus plan (click to enlarge):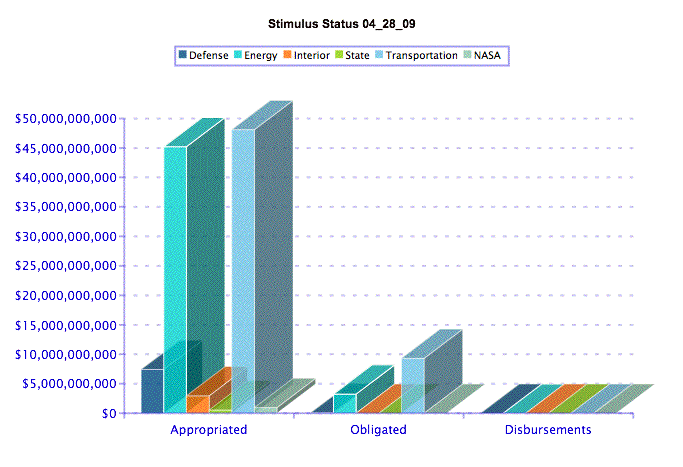 Coming on 3 months into the stimulus job creation effort the amount of money out the door verses allocated for these 6 entities is 0.03%:
$105.336 billion as been budgeted (left columns)
So far $12.739 billion as been obligated to programs and projects (12.1%) (middle columns)
Only $0.031 billion has gone into the economy to create jobs (right columns)
Worse, the news media is trying to spin April's unemployment numbers as a ray of hope. But when you look at the trajectory of the unemployment it is clear that the unemployment numbers are all bad, without any rays of hope for months to come (click to enlarge).
I detect very little  (if any significant) slowing down in this chart. For that to happen you would need to see a leveling off, but unemployment is clearly still shooting upward. For things to be not getting bad as fast (forget 'getting better') the chart needs to look like a trajectory profile, where the top of the hill is being reached. For things to be actually turning around you need to see the unemployment dropping.
And how is that going to happen with the country's economic output shrinking?
The fact still stands. Obama and the Democrats have failed to stimulate job growth. The stimulus money, as shown in the graph above, is stuck in the ponderous government bureaucracy. People are hurting and the Dems are fumbling.
Update: I am not the only one looking at the economic data and realizing there are no silver linings in these dark clouds:
You know the economy is in trouble when 539,000 jobs lost in a month is cause for celebration. Muted optimism was in the air on May 8, as the U.S. Labor Dept. reported that job losses slowed for a third straight month, even as the unemployment rate rose to 8.9%. Investors took that and other relatively positive reports and pushed stock prices up 2% on Friday.

In fact, most economists expect the unemployment rate to keep climbing, with the more pessimistic ones heralding a peak of 11%. That's because unemployment is a lagging economic indicator, which means the jobs market won't change course until a broader economic recovery is well under way. So if slowing job losses aren't the right place to watch for signs of an employment rebound, what signs should we be examining? Economists use a range of leading indicators, whose message is still sobering: Don't expect substantial jobs growth for at least another year.
I don't think it will be that quick. I work on federal programs and that stimulus money stuck in the bureaucracy will not be hitting for at many months to come and will trickle out, blunting any confidence building impact it was meant to have when it was rushed to a vote in mid February.
15 Responses to "Stimulus Watch: Obama Economy Not Stimulating Job Creation"