Apr 15 2009
Update: Fed confirms my assessment, economy not budging. – end update
As I and many others have noted, the rosy assumptions underlying the Obama and Congressional Democrat's spending binge to fix the economy are based on very shaky ground. Their assumption is they can spend their way out of this mess (and hence the need for Tea Party protests today).
Today we are getting indications this will never work and we are heading for bankruptcy. First, consumer prices are falling, which in turn means there are fewer taxes being generated (as well as an indicator the consumer is not spending and sustaining the job market):
U.S. consumer prices fell unexpectedly in March and recorded their first annual drop since 1955, government data showed on Wednesday, as slumping demand pushed down energy and food costs.
Slumping demand = more job losses. The ripples are just beginning to spread out as sales tax revenues sink:
State and local sales-tax revenue fell more sharply in the fourth quarter of 2008 than at any time in the past half century, and has continued to erode through the beginning of 2009, according to a report released Tuesday.
Another indication of a shrinking economy is a huge drop off demand for oil and gas:
OPECÂ again revised down its estimate for world crude demand on Wednesday, saying a "devasting contraction" in consumption would keep prices under pressure in the months ahead.
Lower consumption means lower tax revenues at all levels. Â The signals are clear (as we shall see in the state unemployment numbers I hope to post this week). And where is the stimulus money – stuck in the DC bureaucracy, as I noted earlier this month.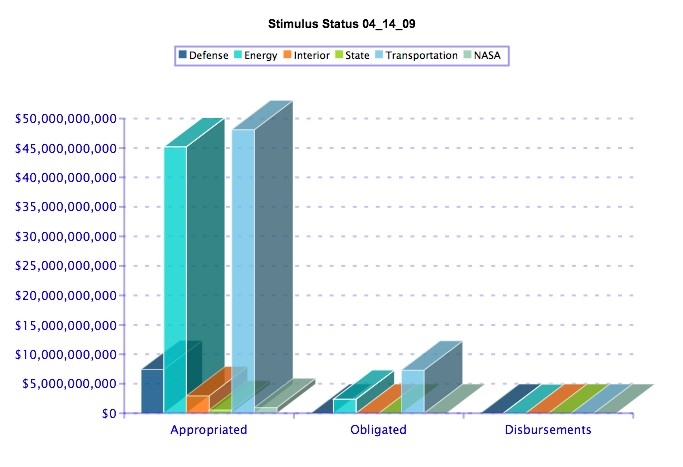 The above chart shows that nothing is coming out of DC to create jobs. Nothing. And I expect to see this trend run for months to come.
4 Responses to "Un-stimulated Economy Is Killing Government Revenues, Adding To Deficits & Debt"