Jan 31 2009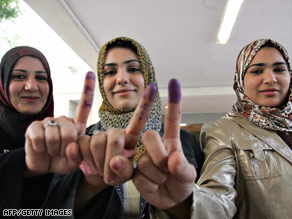 Major Update: From a tip I saw over at Black Five, this election is more historic than I first thought. The al Qaeda version of Islam designates women as property which can be stoned for transgressing strict male rules. In Iraq's version of Islam they are an army of up and coming political leaders:
Four thousand women are running for office in Iraq's provincial elections Saturday, and many of them will be guaranteed seats under an electoral quota system.
4,000 women! No liberal whining and begging at the UN ever was able to create that kind of freedom and opportunity for women in oppressed lands. So, someone explain to me how Al Gore or John Kerry would have been able to pull this off with Saddam Hussein in power? They couldn't – of course! Which means they were willing to leave the Iraqis as playthings for powerful and sick despots. Which is the difference between liberals and conservatives.

– end update
 
For the blindered liberals who refuse to admit we have succeeded in Iraq, today must be most irksome. Iraqis are gathering at the voting booths to select their leaders, in the largest Arab/Muslim Democracy on the face of the Earth:
Voters turned out early and calmly on Saturday for Iraq's provincial elections, the first in the country for four years. By noon, halfway through the voting, no one had been reported injured or killed.

…

More than 14,000 candidates are competing for 440 seats in 14 of Iraq's 18 provinces. The seats are for provincial councils that control municipal budgets and have the power to hire and fire people, giving successful candidates a great deal of power and influence in a nation with high unemployment.

Turnout appeared high in Anbar province, an overwhelmingly Sunni area that largely boycotted the 2005 elections because of threats by Sunni insurgents and opposition to the U.S.-led invasion. Sunnis' participation now is considered critical to restoring balance to regional politics, perhaps undercutting a reason for violence.

"I just voted and I'm very happy," Mukhalad Waleed, 35, said in the city of Ramadi in Anbar province. "We could not do the same thing the last time because of the insurgency. "
al Qaeda dares not attack these Arab Muslims. Their prior efforts resulted in the Awakening which swept across the country (and the region) and was aimed at destroying al Qaeda. When George Bush invaded Iraq al Qaeda was cheered for 9-11. Now that he has left office Iraq hunts down al Qaeda as its enemy, and is now a democratic ally of America.
That is change you can believe in – with your own lying eyes! Great round up from The Anchoress.
11 Responses to "Victory In Iraq – Democracy Flourishes"