Jul 17 2008
Americans don't like their government right now. In fact, outside the military, they probably wish they could get a whole new one come this fall. And maybe America will just pull the lever for all challengers, dumping the incumbents from both parties. At this point it really would be an interesting experiment, to simply vote for a new government.
And given the favorability of Congress right now, it may not be impossible to pull off. They are half as popular as the supposedly hated President George Bush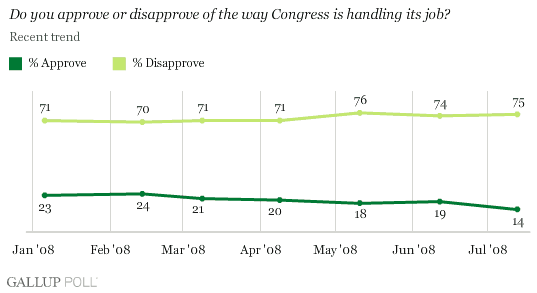 Obama is for faux change, he proved that with his Flip-Flops and his snake oil that cures the worlds problems, etc. If 75% of the people voted against the incumbent we would see change like this nation has not seen since its birth. And the folks in DC would understand America is not only watching, but demanding much better than the crop of losers we have there now.
7 Responses to "Congress In Free-Fall – For Real Change, Vote Against Incumbents"