Jul 09 2008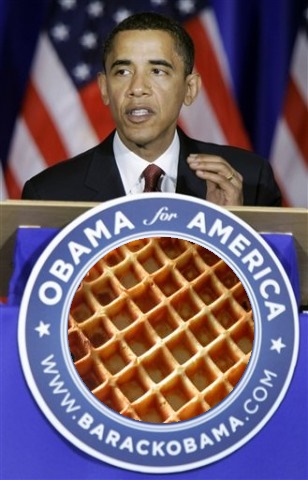 Update: Reader Merlin created this wonderful Waffler-in-Chief seal to commemorate Obama's flip flops! Welcome readers from Lucianne.com
Update: LJStrata reminded me I predicted this morning Obama would get this kind of radioactive fallout once he finalized his FISA flip – end update
I have never seen the likes of this before. Since when have you seen a campaign site promote its candidate, get the boot and another candidate be put in his place? When was the last time anyone saw a campaign site that emphasized how badly the candidate lied to his base? I mean, John McCain doesn't have to do a thing, the Obamabots are doing it all for him – and on Obama's own campaign site!
Make them draft Al before hilary sends the rest of our jobs to China.

This FISA bill just stinks from head to toe. Where was the fillabuster? Where is the man who ran on this issue and now flipping so easy to those that broke the law. You have my vote Senator Obama but no longer my work on the phone banks and my dollars from my other bank.

Congratulations, Senator Obama, on becoming the "lesser of 2 evils candidate" for millions of your supporters.

We worked for you and supported you before today because we believed what you said. I don't anymore. You said you would filibuster telecom immunity. Where were you? If you had voted against the FISA legislation with Hillary, nothing at all would have been lost.

As it is, no more donations from me. No more going out of my way.

Because when I thought you were more than just another politician I became more than just another voter. Well you dropped your ball so I see no reason to disrupt my life on your account. You can obviously win without my contributions and work since the telecom companies will more than make up for what you lose from me.
This snapshot will be gone soon, to be replaced by other posts of anger and betrayal. This group supposedly has 22,000 members so this show will be running for a while.
Whodathunk a campaign site would demand their party to replace their candidate! Mercy, BHO is beyond niave.
19 Responses to "Obama Campaign Site Highlights Obama's Failures"