Feb 27 2008
Dem Presidential wannabe Barack Obama seems to have hit his ceiling in the democrat primary. For quite a while now the Gallup Daily Tracking poll has shown a dead tie between him and Senator Clinton.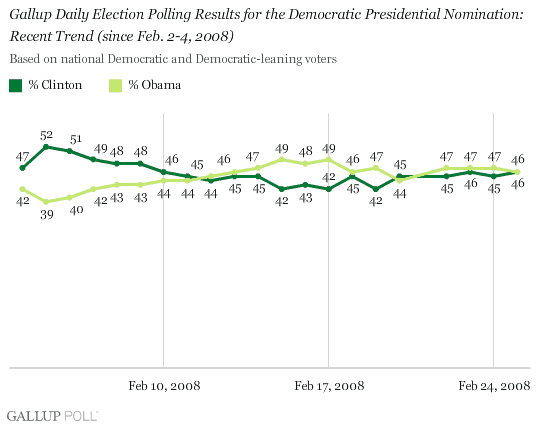 The RCP average of good and ridiculously lame polls shows a different picture, but that is no surprise when you don't do some quality control on your data and throw anything into the mix (for example, Gallup shows a tie and USA Today/Gallup shows +12 during the same period). As I have said before, wild fluctuations and variances in the polls show the polls are not measuring the mood accurately.
And is there any surprise this tie is being reflected in the delegate count? I think we will see this all the way to the convention since no one is going to get the delegates from the primaries they need to win the nomination out right. And this will hand it to the Dem Party machine to make the selection, which will cripple which ever nominee finally arises from the mess.
16 Responses to "Still No Oba-mentum"