Jun 23 2016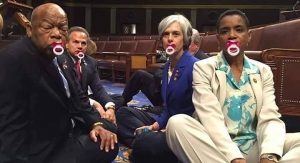 Those Democrats who staged a Sit-In in the well of the House of Representatives where much more than churlish and disrespectful of The People's House – they were in violation of House Ethics laws regarding campaigning.
The fact this spectacle was really a fundraising event was pointed out by House Speaker Paul Ryan today:
At his Thursday press conference, Ryan held up printed copies of a fundraising solicitation. "House Democrats on the House floor. Your contribution will go to the DCCC," Ryan pointed out. He continued by pointing to each fundraising box in turn, "Fifteen dollars, this one says try giving us 25 bucks, but if you want you can send us 50, a hundred, 250 dollars, 500 dollars, a thousand, because look at what we're doing on the House floor. Send us money."

"If this is not a political stunt then why are they trying to raise money off of this? Off of a tragedy. What they've called for failed in a committee in the House. The reason I call this a stunt is because they know this isn't going anywhere. It already failed in the Senate.
The Democrats pouting in the well of the House of Representatives made it clear this was a publicity stunt when they circumvented the communications rules:
Cameras covering the House floor were turned off on Wednesday as Democrats staged a sit-in to try to force a vote on gun control legislation.

House Republicans control the House and the cameras that feed C-SPAN, and said they would be kept off until the House was back in session.

…

Without the live cable feed, Democratic members took to their smartphones to captures pictures of the floor, and Rep. Scott Peters (D-Calif.) used Periscope to live stream the event, though it is against House rules to broadcast from the floor.
Emphasis mine.
So we have fundraising fliers magically appearing during a 1.5 day stunt along with an apparently preconceived plan to circumvent the communications rules with new tech (tech most of these political dinosaurs would be clueless about).  Smells like a campaign fundraising event to me.
So is this ethical? Does this follow Federal Campaign Law and House Ethics rules?
Top Ten Things to Remember about Campaign Activity
You may not conduct campaign activities in official buildings, using official resources, or on House time.
More here (House Ethics Manual):
This chapter addresses the laws, rules, and standards on four major subjects

relating to campaign and political activity, as follows:

The general prohibition against using official House resources for campaign or political purposes;

Campaign work by House employees, which must be done on their own time and outside the congressional office, and without the use of any House resources;

The solicitation, receipt, and acceptance of campaign contributions, and the general prohibition against taking actions in one's official capacity on the basis of political considerations; and

The proper use of campaign funds

…

As detailed below, official resources of the House must, as a general rule, be used for the performance of official business of the House, and hence those resources may not be used for campaign or political purposes.
It is clear the House of Representatives is not a place for political stunts or fundraisers. So these two dozen or so democrats who participated in this "Pout In" need to be sanctioned for a clear and disgusting use of The People's House for a crass fundraising activity.
Comments Off on Dem Sit-In Was Illegal Campaign Action