Jul 13 2012
More evidence was released yesterday, and it is quite extensive and damning. Zimmerman's defense team was given first shot to cherry pick the evidence made public. It turns out this was a subset of all the evidence collected, evidence that shed the best light on what transpired. But now with more information available it is clear George Zimmerman concocted his testimony (since the evidence and witnesses discredit it) and it is highly likely he will be found guilty of Murder 2.
I don't have time to do an extensive post, but I can present some key points. First, the depraved mind aspect of Murder 2.
It seems George Zimmerman has had a history of calling the police on African American males in the neighborhood who are guilty of 'looking suspicious'. All his 'evidence' of 'suspicion' is pure nonsense. As it was the night GZ gunned down young Trayvon Martin. He thinks he can see into the soul of people, but in reality all we get from him are people walking and looking around. To George's depraved mind, this is suspicious.
That night he literally profiled Trayvon Martin like he had other black males before. Zimmerman is the poster child for racial profiling, turning a person simply walking into some nefarious character without a single iota of real evidence. It is why any pro-gun, pro-law enforcement, stand-your-ground conservative is making an huge mistake defending this guy.
Not only does Zimmerman profile Martin, but then he follows him – admitting to the police dispatcher he has convicted this kid in his mind of being a criminal before he even says one word to the kid. Then the depraved mind of George Zimmerman, wannabe cop who now has numerous failed attempts to bag the bad guys, goes stalking Trayvon against the direction of the dispatcher. That is depraved. He is now hunting the person he has convicted in his head of being the culprit in all these break ins.
What happens next is NOTHING like that portrayed by ZImmerman in his own testimony. Crime scene drawings in the report (page 145 in the link above) are proof positive events did not unfold the way GZ claims. The crime scene actually supports many witness accounts, who tell a very different story of what happened.
As GZ  sat in custody and realized his actions were not defensible, he realized he needed to adjust events so he was not seen as the true criminal. If that is not depraved, I don't know what is. GZ thinks of TM as 'the suspect' all night in his testimony to police – trying to prove to police he is one of them and he acted righteously. He did no wrong, so he must change events to prove it. Talk about twisted.
Here is the crime scene drawing with some of my augmentations (click all pictures to enlarge).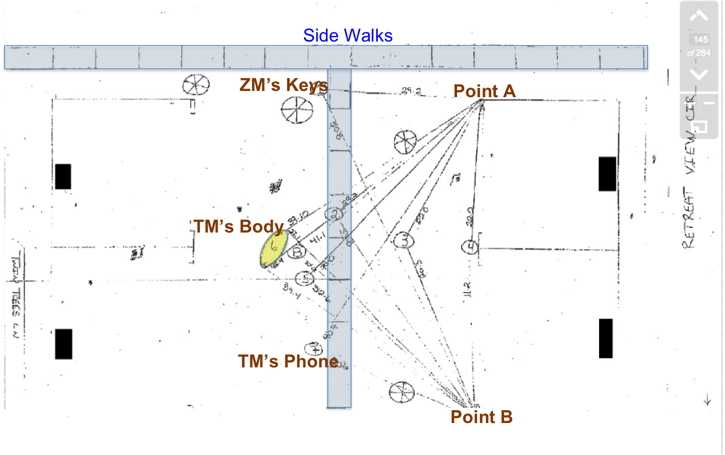 Note how far the scene is spread in terms of evidence. Up at the top are GZ's keys and small flashlight – where GZ and some witnesses state the altercation began. Some 30-40 ft away lays TM's body, surrounded by bullet casings and GZ's larger flashlight. And further down still is TM"s cell phone, which he was on when the altercation started according to TM's girlfriend. The distance in all looks to be 40-50 ft (or more).
The drawing is not to scale, and ZM"s keys are not directly in line with the end of the buildings, so don't try to do straight interpolations from it. For example, the distance between the left-right sidewalk (making the top of the "T")  and the ends of the buildings looks to be 10-15 feet. The body is more than 20 ft from the T.
You can see here in this picture where GZ's keys (Item A) where found. Note TM's body way off in the distant background. This picture, taken the night of the incident, is from the T-intersection of the sidewalk (from a previous post).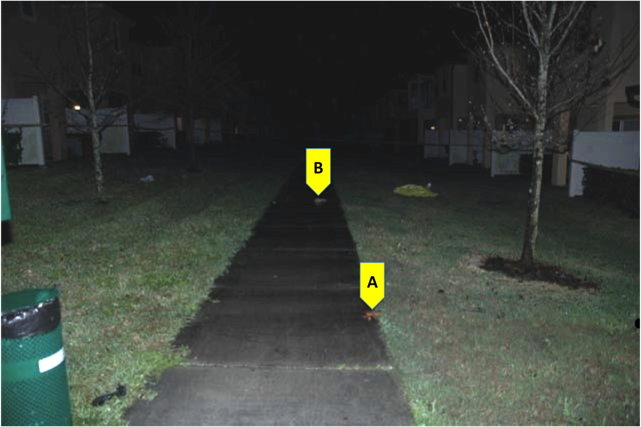 What we have is a crime scene that spans a large distance and does not reflect GZ being ambushed, punched, and then mounted by TM in close proximity. That DID NOT happen. And we have witness testimony that confirms a wide ranging incident, that begins with belligerent yelling, includes a short chase, then turns frantic as TM (likely) begs in a panic for help. [Note: why would GZ stop screaming for help once he shot TM IF GZ felt TM was not really shot as he claims? Is TM not still a threat? Riddle me that!].
In this daylight picture of the scene I layout the key items again, and note the testimonies of Witness 11 and 20 who I believe lived right at the scene of the crime.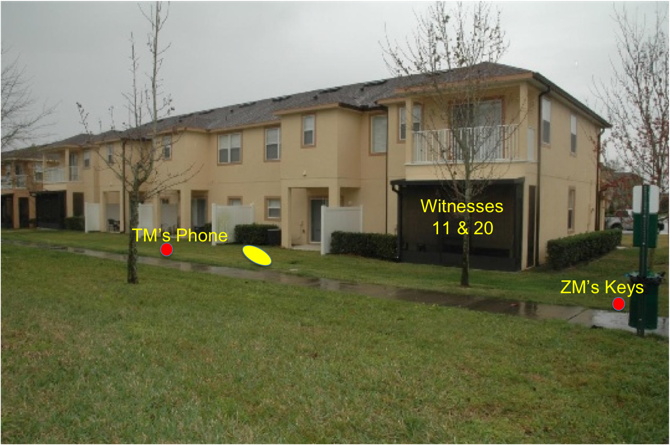 In their testimony they mention the dark shades on their screened in porch, which is why the could not look out.
They note they were home watching TV with the door to the back open to enjoy the rain and fresh air. They heard the initial arguing up at the T of the sidewalks and muted their TV to listen. They hear 3 rounds of interchange, and then a struggle that moves across their back door and down towards where TM is staying. They call 9-11 and it is their call that so clearly registers the desperate cries for help and the gunshot (because their door is open and they are only feet away).
When you combine this with other witnesses (TM's girlfriend on the phone who also hears an initial confrontation, not an ambush by TM) it is clear GZ lied in his statements.
My guess is GZ ambushed TM. I think he waited until TM thought the coast was clear (remember, he told dispatch he would tell police where to find him,). I think he was tired of looking like the fool when police responded to his ludicrous calls. I think he was going to show everyone – for once and for all – he was worthy of being a cop.
I think he surprised TM. I think it was GZ hiding in the dark (GZ seems to have a pension for switching the roles when he made up his story – which is a good plan if you want to confuse witnesses, etc). I think once confronted TM laid a sucker punch on GZ and put him on his arse. And I think it was that broken nose punch that called GZ's internal, hidden Mr Hyde to the come out and kill. I think it was GZ who said, as he stood with gun being drawn, TM would 'die tonight'.
GZ has a penchant for being over violent in a snap. This too is coming out in the broader evidence. I think TM decked GZ, and then made the fatal mistake of not running immediately. Zimmerman gets up, pulling his gun – now in a fit of blood hot anger. TM finally runs as another witness (Witness 2) testified. TM is running back home now, and trips or slips, because GZ catches him (which would not be possible unless TM trips). GZ tries to detain TM physically, getting angrier and angrier. TM is desperately trying to pull away towards his home. And GZ guns him down.
The only issue with this scenario is how TM's phone ended up so far away from the body, and farther down the T.It rests a good 10 feet away, towards TM's home.
If TM was standing when shot with phone in hand, he could have thrown the phone as his body twisted and fell to the ground. Or the incident could have started way down in the middle of the buildings, with GZ marching TM back to the T.
Who knows. But we know one thing – it did not happen as GZ claims. And it takes a truly depraved mind to concoct a story full of half truths to cover up his vigilante killing. GZ thought he was in the right. To this day, he could be so pathologically sick, the need to prove himself so strong, that he still feels no remorse in killing – let alone lying to cover it up. The evidence and witnesses point to GZ hunting TM, getting sucker punched, and then GZ losing his cool and shooting the defenseless boy trying to flee back home.
Here are some additional data from the crime scene sketch.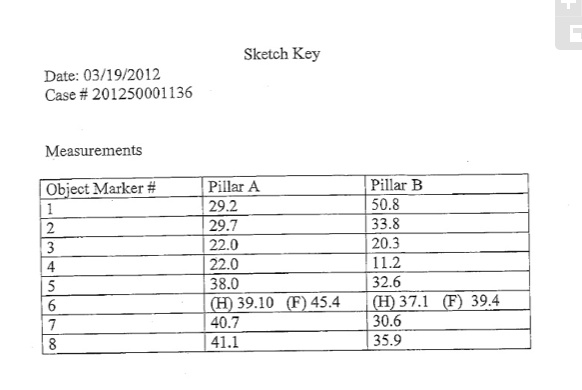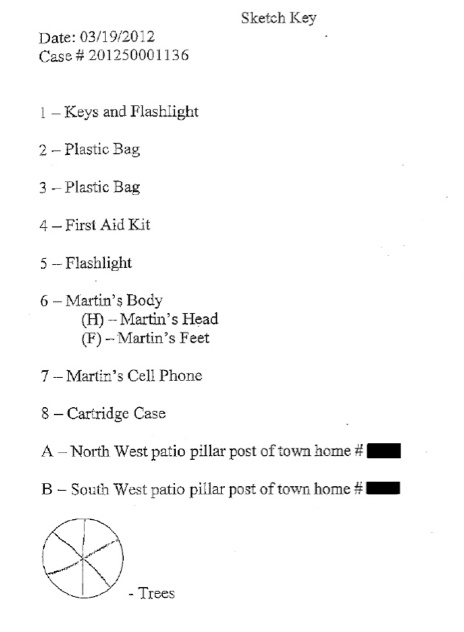 18 Responses to "George Zimmerman's Defense Is A Fraud"