Mar 24 2012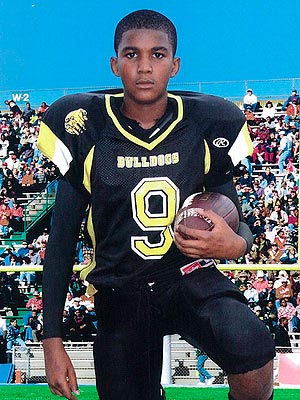 Update: The news of an eye witness does not change my assessment below.
But one man's testimony could be key for the police.

"The guy on the bottom who had a red sweater on was yelling to me: 'help, help…and I told him to stop and I was calling 911," he said.

Trayvon Martin was in a hoodie; Zimmerman was in red.

The witness only wanted to be identified as "John," and didn't not want to be shown on camera.

His statements to police were instrumental, because police backed up Zimmerman's claims, saying those screams on the 911 call are those of Zimmerman.
Yes, but… Here's the problem. What if the gun had been drawn and that led to the scuffle? Or what if Zimmerman confronted Trayvon and patted his side where the gun hid as an arrogant gesture dominance? Whose actions initiated the physical confrontation? Just because Trayvon was winning the fight (no surprise there, being a young football player) does not make him the instigator. As we know, the instigator was the one who refused to keep his distance until police arrived.
The point is, Trayvon had NO IDEA who this nut was stalking him, confronting him. For all he knew Zimmerman wanted to rob him. And that is why the self defense claim is also Trayvon's – and why Zimmerman is still at fault for causing the incident to escalate. Zimmerman had to have pushed Trayvon into a fight or flight decision. There is no other reason for the attack on Zimmerman. – end update.
Bottom line 1: The man who shot Trayvon Martin needs to be charged and prosecuted with manslaughter
Bottom line 2: If liberals run around in a form of mob madness over this, they will lose the White House for Obama
I strongly agree with Newt Gingrich on this matter. What the political left is doing over this situation is repulsive to the rest of the country. Repulsive because they are turning this tragedy into a political football:
"It's not a question of who that young man looked like. Any young American of any ethnic background should be safe, period. We should all be horrified no matter what the ethnic background," Gingrich said.
Absolutely. And we are horrified for this young man and his family. Our prayers go out to them all.
But to answer one of the left's most notorious "Wolf!" criers, it will take time for justice to work its way through this tragedy:
Civil rights leader Jesse Jackson said Friday that he's grateful the rest of the country has sat up and taken notice of the tragic slaying of Trayvon Martin. But he can't help but wonder: Why has it taken so long for everyone else to recognize the chronic injustices that African Americans face?
As someone who can't shut up about race and obsesses over barriers that some can't get past, Jackson has himself to blame for this as much as anyone who takes a human tragedy and tries to turn it into a race war. George Zimmerman, the man who should be charged by now, is colored (Hispanic). This is not about race, but about one egotistical, small little man. We don't need to take one fool's mistake and light up 100's more. Jackson is just trying to regain some of his media attention – nothing more.
What happened is clear. George Zimmerman was playing cop. He was a self anointed vigilante – with a gun. He wanted to play Rambo. He stalked young Trayvon – against direction from the police. He instigated any confrontation that ensued by coming to the victim and not keeping his distance. He did this knowing full well he was armed with a loaded gun.
Zimmerman went looking for trouble, went looking for a confrontation. He had hundreds of opportunities to stay back and stay clear of Trayvon. Whatever ensued that ended with Trayvon dead, the simple fact is it would not have happened if Zimmerman had just kept his distance. That is all you need to know about this. If Zimmerman stayed back Trayvon would be alive. And that makes it Zimmerman's fault.
Trayvon has the same right to self defense as Zimmerman. Trayvon was the one being stalked. We have no idea if the gun had been pulled and never will. If Zimmerman kept pushing Trayvon to the point he felt he had to defend himself, then Zimmerman is the guilty one. In my mind there is only a question of whether it was deliberate or accidental manslaughter. Beyond that this case is not complex.
Just tragic and sad. And we don't need more Zimmerman's popping up confronting others in anger and fear. That is not what Trayvon Martin deserves as the final epitaph for his too short life.
If the President or his supporters continue to poison this tragedy further, they will lose the support of every family who wants justice in this case. And justice does not come from the lynch mob, nor the  misguided vigilante.
28 Responses to "Attempts To Make Trayvon Martin's Murder A Race Issue Will Destroy Obama's 2012 Election Chances"