Mar 04 2011
Don't let the latest unemployment numbers get you too giddy – they are not all that good. First off, 8.9% still sucks – as does the 15.9% full unemployment number which combines all the people not working at their full capacity.
The problem is that this long and deep recession chased a lot of people out of the workforce, so they don't even get counted any more. If you look at the decadal trend line for the US Work Force we see that the low unemployment number is biased downward because the work force number shrank. There not fewer people needing jobs, there are just fewer people working or trying to work and therefore just not being counted in the equation. [click to enlarge]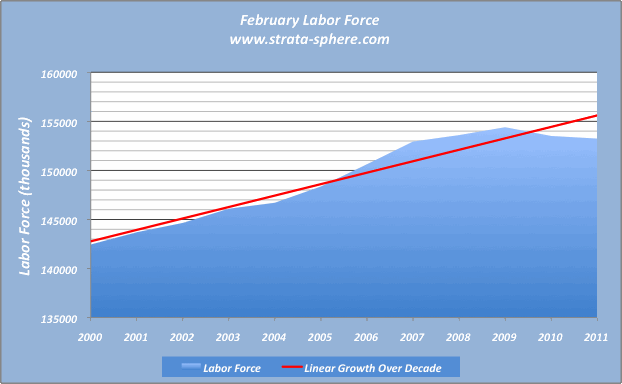 The red line shows where the workforce should have been under normal economic conditions. The last census clearly showed a growing population – which means a growing workforce. But the measured workforce numbers (shown in blue) indicate a serious statistical discrepancy. The annual February work force level from 2001 to 2011 has actually dipped significantly since the recession and remains below the normal level.
Since the population has not shrunk during this period this means the unemployment numbers are skewed by missing individuals in the count. About 2.8 million of them (making this anything but round off error or statistical noise). When folded back into the calculation, the actual unemployment level is 10.4%, with the full unemployment number (U6) actually at 17.2%. A tiny improvement from January – but still an economic mess.
6 Responses to "True Unemployment Still Over 10%"