Oct 29 2010
Pennsylvania is going to be the prime example of how pollsters just missed this election. The GOP has had a regular but small lead in the state for the entire month of October, as if the Dems are somehow still in the statewide (and by extension the CD) races. But we now have a sample of nearly 100,000 early votes, and the picture is quite different.
To put it bluntly, the GOP voters are so intense they are swamping the Democrats – who hold a significant registration lead in the state (click to enlarge):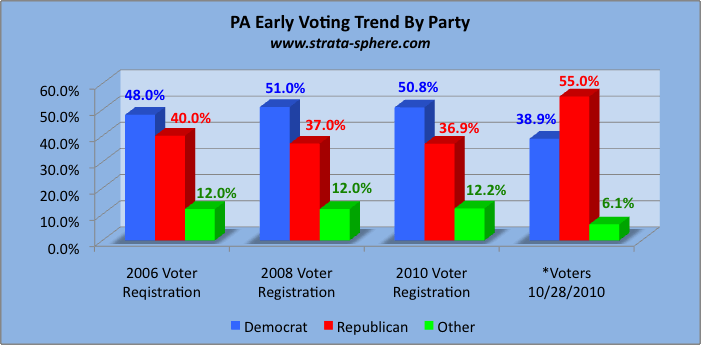 All one has to do is compare the last two sets of data to see something extraordinary here. The 2010 registered voter data is completely flipped on its head. The GOP registered voter deficit of -14% turns into a GOP early voter lead of +16%. That is a swing of 30%!
In the 2009 VA Governor's race we saw a 20% swing from 2008 to 2009, resulting in a GOP blow out. This and the NJ governor race in 2009 were the first signs of a political backlash – the likes of which almost no one has seen in living memory. The wave continued to wreak havoc in January of 2010, in the MA Senate special election. It seems the wave has only strengthened and picked up energy as it has traveled to the November elections next Tuesday. Because this kind of turn out is just amazing:
In comparison, during the 2006 and 2008 elections, absentee ballots were returned almost equally between Democrats and Republicans.

During 2006, the two parties returned exactly 82 percent of ballots. During 2008, Democrats returned 88 percent of absentee ballots, compared to 89 percent returned by Republicans. Republicans requested over 8,600 more ballots than Democrats in 2006, compared to only 3,400 more in 2008.
The data is awkwardly being reported in percentages of requested ballots by party. But what it indicates is the GOP and Dems basically voted in equal numbers in 2006 and 2008. Bottom line: a 1% difference in returned ballots for each party is going to result in less than 1% difference in early voters by party. With the GOP running so far ahead this year in early voting it is clear something big is happening in PA.
As I have done before, I can run two scenarios through these early voter numbers and estimate the GOP and Dem votes produced. The first model is the 60-40/95 scenario where each party holds 95% of its party's voters, but the GOP take the independents by 20% (60-40). If that is how these voters voted, then the GOP would win by almost 16% (57.9%-42.1%).
But I do not believe that is an accurate model, because I do not think the Dems can hold their left of center base. Assuming a paltry 15% defection rate for the Dems we get the 60-40/D:85 scenario, where the Dems only hold 85% of their voters, the GOP does 95% of its party voters and the independents still go to the GOP by 20%. In this scenario Dems lose the early vote by 23.5% (61.8%-38.2%).
These are staggering numbers, but early voters typically only make up around 15-25% of the total PA vote (a range that changes over time as early voting becomes easier and more popular, on top of the intensity between midterm and presidential races). However, one thing I have noticed with early voting is that the trends are established very quickly and do not move at all over time. A week ago, with a fraction of these votes in, PA was in the same place (but not quite as bad for the Dems). The early vote tally is like a massive poll, with 100,000 samples and no guesswork needed for turnout models or intensity by party ID. This trend is locked in.
And right now it looks like a GOP blowout in PA.
7 Responses to "GOP Blowout In PA"