Apr 19 2010
The Obama administration has further blinded us to pending terrorist attacks in a mad game of Russian Roulette to see who is right – President Bush or them and the far left. Sadly for Americans, it is our lives being used to prove the liberal left is correct. Some of us have already died (14) proving the stubborn and naive liberals wrong, and now many more are at risk in this dangerous game being played by the Obama administration.
But first let's go back to Christmas day and the horrific moment when a terrorist recruit from Africa almost detonated a bomb aboard a packed flight landing in Detroit, MI. In an instant of pure luck, the detonation failed and passengers were able to subdue the would be mass murderer, Umar Farouk Abdulmutallab.
As I noted since then, that day when 300+ Americans nearly died was partially caused by the Obama administration putting on liberal blinders. The liberals have always felt investigating terrorist threats was some sort of sin or plot to listen in on their mad rants. They don't like the idea that we can use our technological edge to intercept communications, even when known terrorists are communicating with possible allies and sleeper cells in the US.
They hate it so much they exposed the entire secret program used to track down members of terrorist attack squads in 2005. I have been writing about their lies and exaggerations ever since.
In my previous two posts (here and here) I noted how the liberals inside Obama's administration actually shut down an ongoing terrorist investigation from the Bush era – and the result was the Ft Hood Massacre. I also noted how a known terrorist sympathizer (and US citizen fled to Yemen to carry Bin Laden's message of hate) was probably the excuse used by Attorney General Eric Holder to close down the investigations that could have avoided the massacre.
Cleric Anwar al Awlaqi, being an American (traitor), was given special benefit of the doubt by Holder and President Obama. See, he was not fighting in Afghanistan or Iraq. He was just recruiting fighters to kill our people. And that made him somehow not dangerous.
It is clear from the timeline (click to enlarge) I produced from news reports that America turned a blind eye to Yemen and al Awlaqi until the first underwear bomb exploded in Saudi Arabia late last summer (with sufficient force to probably bring down an airplane). When that bomber's trail led back to Yemen the Obama administration only partially woke up to reality. But they were too late and still had too many silly blinders on.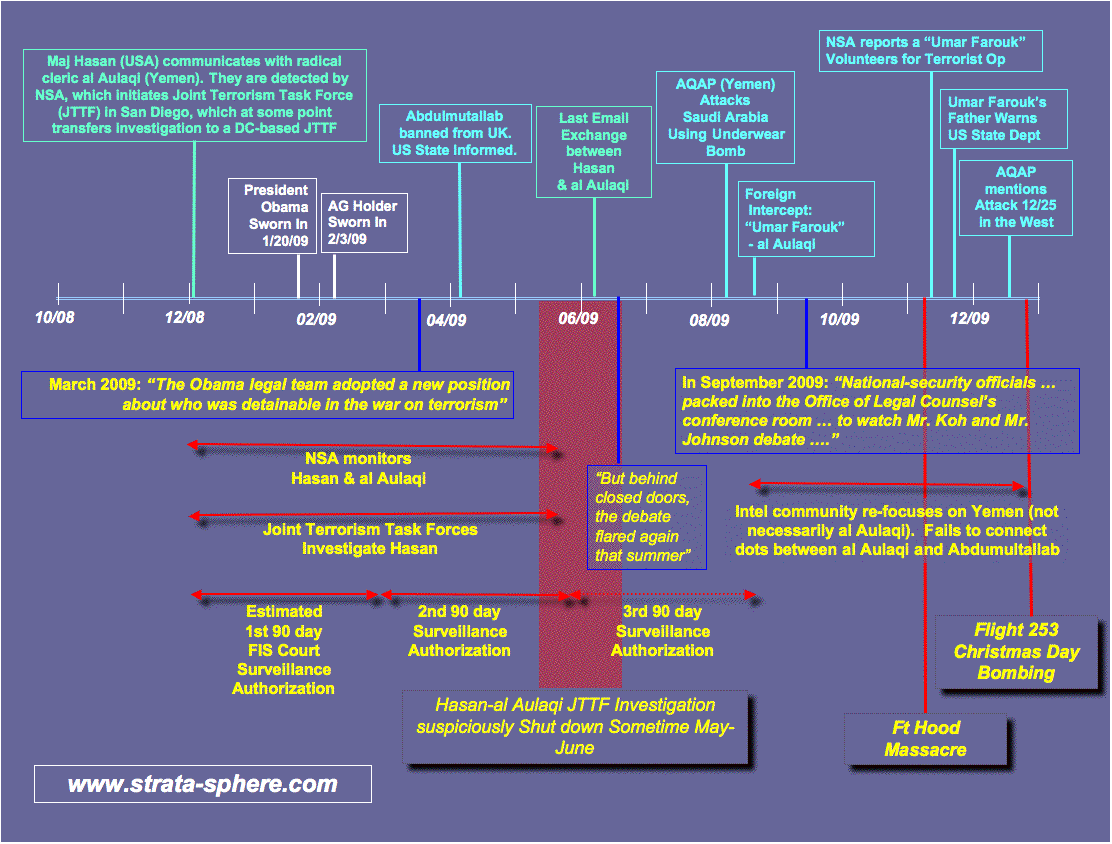 al Qaeda knew what it was doing. It took a chance and started recruiting people with no obvious or well documented connection to Islamo Fascist from places far away from the Afghanistan and Iraq. These people, they bet, would be dismissed by the new administration who was hell bent on doing things 'different' from the successful Bush years.
They were right and Abdulmutallab was able to get into position to kill 300+ people last Christmas.
After the attack, Eric Holder made another liberal bone-head decision. Instead of classifying this terrorist attacker as an enemy combatant and interrogating him to uncover the other attackers on their way to their targets, Holder mirandized the bomber and gave him a lawyer. That lost precious leads which went dead within hours of the failed attack. Holder would not be able to resurrect those leads for weeks – too late to take action.
Today comes more bizarre news on the liberals' strained 'legal logic' as it applies to fighting terrorists . Some months back the FIS Court determined there was (or is) a technical error in the surveillance law fixes President Bush and Congress put in place in 2008. This determination apparently makes certain types of simple, normal data collection on communications illegal (still wondering why precedence is not working here).
The Foreign Intelligence Surveillance Court, which grants orders to U.S. spy agencies to monitor U.S. citizens and residents in terrorism and espionage cases, recently "got a little bit more of an understanding" about the NSA's collection of the data, said one official, who spoke on the condition of anonymity because such matters are classified.

The data under discussion are records associated with various kinds of communication, but not their content. Examples of this "metadata" include the origin, destination and path of an e-mail; the phone numbers called from a particular telephone; and the Internet address of someone making an Internet phone call. It was not clear what kind of data had provoked the court's concern.

…

"This is a basic tool we used to have, and it's now gone," said one intelligence official familiar with the impasse. "Every day, every week that goes by, there's just one more week of information that we're not collecting. You sit there and say, 'This is unbelievable that we have this gap.' "

The data could be used to help analysts learn whom a suspect was working and communicating with, and to "detect and anticipate" a plot, the official said. "It's not a concern over what was being collected," he said. "It's just a question about whether the law was written in a way that allowed the information to be collected in a way that they were collecting it."
Due to the court's decision the NSA has stopped monitoring threats! They stopped in December or January, just as Abdulmutallab was reaching his target here in the US.
The NSA voluntarily stopped gathering the data in December or January rather than wait to be told to do so, the officials said. The agency had been collecting it with court permission for several years, officials said.
This is just ridiculous. This kind of data has been available to investigators for decades. As technology advances the methods for access may change, but the class of information has been a staple for weeding out bad elements from innocent bystanders. This has to be really bad because the act of leaking this situation to the press (and therefore our enemies) is tantamount to admitting our defenses are down – and now would be a good time to attack.
What is worse, the fix to this is trivial – but the Obama administration won't make the fix.
Some House Republicans have argued that the suspension of collection creates an intelligence gap that undermines the government's ability to track and identify terrorist networks, according to officials familiar with the matter. Frustrated about waiting for a remedy, these Republicans say the gap can be closed with a technical fix to the Foreign Intelligence Surveillance Act, the officials said.
The reasons for not fixing this problem are either political or ideological. Either way they are excuses bordering on criminal negligence. We have had a series of attacks on this country probing the new administration's weaknesses given its liberal political bent. These probes have been too successful when we consider Ft Hood and Flight 253 last Christmas Day. In fact it looks like even the recent success stories were leads developed under President Bush.
The end result is Team Obama missed new leads (Abdulmutallab) because they turned a blind eye to threats  like al Awlaqi, who now is not just a legal target of surveillance but of assassination by his native government – without trial. Talk about hypocrisy. They horribly bungled one Bush era lead. So far their track record looks damn shabby.
But running blind for months when a simple legislative solution is at hand? What kind of lazy, bureaucratic crap is that? Wake up liberals: Process does not trump protecting Americas. We are at war, not preparing a legal case. Holder should be on the sidelines, not leading the charge into self destruction. When the next terrorist attack slips through, there better be investigations and hearings and heads should roll. Because this time, there will be no excuse.
15 Responses to "Our Judicial System & The Obama Administration Just Blinded Us To Terrorist Attacks"