Nov 09 2009
Updates Below!
I have holding off on posting on the Fort Hood Massacre by an Islamist Terrorist because I wanted to make sure I was on working with some reasonably stable information.
First off, anyone who targets Muslims i general over this incident are not only dumb, they are doing al Qaeda's wishes by building a rift between this nation and its Muslim citizens and soldiers. The Forbes comment about 'going Muslim' versus 'going Postal' is a case in point (and will not get a link out of me). This nation has somewhere between 2.5 and 7 million muslims, with recent immigrants making up a large portion of this population. If just 1 million of them decided to go radical and take kill 10 and injure 20 people that would result in 10 million dead and 20 million injured across this land. These people are not violent, but we don't need hotheaded loud mouths pushing them into becoming deadly radicals.
The American hero of the day is of course Sgt, Kimberly Munley, now recovering from her wounds as she faced down the American traitor Major Hasan.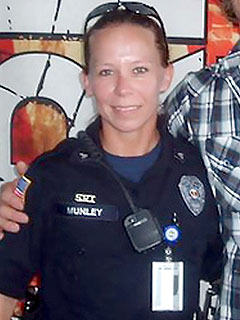 On the day of the Ft. Hood shootings, Munley cut short a trip to a garage to have her car fixed when news of a gunman at the Texas Army base came over the radio. The veteran sergeant sped to the scene within five minutes of the first report, pulled out her handgun, and fired at alleged shooter Maj. Nidal Malik Hasan, who was finally incapacitated under the volley of bullets from Munley and her partner. She was shot twice in the leg and once in the wrist.
Count us lucky to have such selfless and brave people in this country. I have few worthy words that could add to her valiant actions. She stands now in the annals of this country right up there with our other national heros.
But the Fort Hood Massacre also has its most evil of villains, Major Hasan. Right up there with Benedict Arnold, Hasan turned on his fellow soldiers and citizens, apparently at the prodding of a terrorist Imam who once lived in my neck of the woods in Northern Virginia. ABC News has reported Hasan tried to contact al Qaeda. He is the example of what happens when evil corrupts the soul.
But what was more shocking than one disturbed Muslim going of the Jihad deep end is how our security forces were well aware of Hasan's attempts to make contact with a mad man Imam now in Yemen, and how apparently they did not take steps to protect this nation from this man.
The Army psychiatrist suspected of killing 12 soldiers and a civilian here last week was in e-mail contact earlier this year with a radical cleric in Yemen who has decried what he calls America's war against Islam, a federal law enforcement official said Monday.

U.S. intelligence agencies intercepted between 10 and 20 e-mails from Maj. Nidal M. Hasan to Anwar al-Aulaqi, a U.S. citizen who once was a spiritual leader at the suburban Virginia mosque where Hasan had worshipped, Rep. Peter Hoekstra (Mich.), the ranking Republican on the House Intelligence Committee, said later Monday. Aulaqi responded to Hasan at least twice, Hoekstra said, but he described the responses as "innocent."

The FBI dropped an inquiry into the matter after determining that the e-mails did not warrant further investigation, according to a law enforcement official, who spoke under the condition of anonymity.

"For me, the number of times that this guy tried to reach out to the imam was significant," Hoekstra said in an interview.
Emphasis mine. al-Aulaqi praised Hasan's bloody actions as heroic. Brian Ross was on O'Reilly and noted that Hasan was in contact with the Imam up until he left fort Fort Hood (anyone know when this was?). Ross claims intelligence officials alerted the Army – but nothing seems to have happened.
Hasan lived in the DC area when he worked at Walter Reid Hospital, and freqented al-Aulaqi's mosque. What is telling his HOW officials tripped over Hasan as a potential Islamist Terrorist threat – in comes the NSA and the liberal issues with the FISA changes made under President Bush:
Hasan appears to have surfaced on U.S. surveillance inadvertently. The National Security Agency eavesdrops on electronic communications around the world, and routinely monitors the e-mails and calls of figures such as Awlaki.

The emerging details are likely to draw parallels with intelligence breakdowns that preceded the Sept. 11 attacks, when the CIA, NSA, FBI and other agencies failed to recognize or share information that may have helped uncover the plot.

Fixing those problems was the focus of a sweeping overhaul of the U.S. intelligence community.
Again, emphasis mine. Those sweeping overhauls were opposed by one President Barak Obama, who has the executive authority to roll back those fixes which have protected this nation from terrorist attack for 8 years, since 9-11. The NSA had this man in their sites apparently up to 6 months ago, while he was still in the DC area.
After earning his medical degree (M.D.) in 2001, he completed his residency in psychiatry at Walter Reed Army Medical Center.[49] In 2009, he completed a fellowship in Disaster and Preventive Psychiatry at the Center for Traumatic Stress.[50]

…

Hasan had come to the attention of federal authorities at least six months before the attacks because of internet postings he appeared to have made discussing suicide bombings and other threats, though authorities at the time had not definitively attributed the postings.[41][42] The postings, made in the name "NidalHasan," likened a suicide bomber to a soldier who throws himself on a grenade to save his colleagues and sacrificing his life for a "more noble cause."[41] No official investigation was opened.[42]
Again, emphasis mine. One thing you have to understand is the only way for the NSA to use the Bush expedited investigation process is for the US Attorney General (or his designee) to petition the FIS Court to proceed with just the NSA evidence in hand. If the US AG doesn't do this, there is no expedited investigation.
This clearly happened on President Obama's watch. An Army officer (who has access to information and weapons) was detected by our national security intelligence folks contacting a known al Qaeda supporter and agent overseas. The alarm bells went off, but someone in the administration turned them off and allowed this massacre to transpire.
This could be the nail in the coffin of liberal stupidity. I would not be surprised if the news starts buzzing with what really happened. What we need to know is who knew what, when, and why did they not do something more proactive. This cries out for congressional investigation and hearings.
13 Americans need not have died, if the current administration was doing its constitutional duty and protecting the American people. You can go here for all my posts on the NSA-FISA row (and plow through the 100 or so I did over the years). Many of the later posts are reasonable summaries of what failed on 9-11 and how the process was changed to make us safer.
On a side note, the New York Subway bombing that was foiled recently was discovered by UK intelligence sources.
The plan, which reportedly would have been the biggest attack on America since 9/11, was uncovered after Scotland Yard intercepted an email.
The force alerted the FBI, who launched an operation which led to airport shuttle bus driver Najibullah Zazi, 24, being charged with conspiracy to use weapons of mass destruction.
At least some folks were paying attention.
Update: Evidence mounts that the FBI may have been thwarted by Obama political appointees, since they alone have the authority to initiate emergency surveillance actions under the post 9-11 FISA-NSA rules:
A terrorism expert with access to information about the case cautioned against drawing any conclusions from Hasan's communications with Aulaqi. The expert said it appears that Hasan may have reached out to the cleric as part of academic research he was conducting. The correspondence, he said, is "not a smoking gun, but communications that in hindsight raise some concern."
Yeah right, he was studying for his doctorate in mass murder. This stinks of a cover up. The FBI supposedly determined there was not issue (even though the Major Hasan was writing more and more radical postings). But the reality is, just like with Moussaui, it is the Attorney General who must authorize the FBI to investigate NSA leads – not the FBI by itself.
Furthermore, why notify the Army of the situation if there was no need to investigate. These stories are incoherent beyond the pale.
More details coming to light here:
U.S. intelligence officials on Monday denied that the intelligence community "sat" on valuable information about the alleged Fort Hood shooter before last week's massacre, after one lawmaker questioned whether agencies like the CIA could have done more to warn military and government officials.

…

"There's no sign at this point that the CIA had collected information relevant to this case and then simply sat on it," the official said.
Nice try, but we all know it was the NSA who had the intelligence, not the CIA. More here:
As the investigation continues, FBI Director Robert Mueller has ordered an internal inquiry to see whether the bureau mishandled worrisome information gathered about Hasan beginning in December 2008 and continuing into early this year.

In late 2008, officials said, an investigation revealed Hasan's communications with another individual they declined to identify. Separately, another U.S. official said the person Hasan was communicating with was Anwar al-Awlaki, a radical imam overseas who has come under scrutiny for possible links to terror groups. All of the officials spoke on condition of anonymity because they were not authorized to discuss the case on the record.

Eventually, a joint terrorism task force learned of about 10 or 20 such communications between the two.

…

The military was made aware of the communications, but because the messages did not advocate violence or threaten violence, law enforcement authorities could not take the matter further, the officials said.
I'll say it again, if this task force recommended FBI action under the new FISA rules it would have to be initiated by the Obama's political appointees. We need to see how far this information went up the chain.
Addendum: From the last link:
It is not clear whether terrorism laws would apply or not. Evidence would have to show that the act was inspired by a terrorist group or influenced or directed by terrorists or terrorist idealogy, CBS News reports.
This is very telling. The one 'reason' to not invoke the post 9-11 FISA rules is to claim that the incident is not terrorism, therefore it falls outside the purview of the FIS Court. This seems to be why the liberal media outlets are pushing the non-terrorist angle of this story, to give the liberally driven and inept Obama administration cover for not using the tools of national security to protect these Americans.
If this is how this really played out there should be court proceedings for criminal misconduct and manslaughter.
Final Addendum: The more I think about this the worse I see it. Look, when the NSA gets a lead like this the administration has a choice: be conservative and check it out (which requires a FIS Court ruling to invoke the post 9-11 rules, initiated by the AG) or be dismissive and ignore it.
The idea this was all part of research on post traumatic stress syndrome is as bogus as Pelosi's mad claim last Tuesday's elections were a victory for the Democrats. It is clumsy grasping for positive spin. In this case, asking this radical Imam for proposals in dealing with our US soldiers battling al Qaeda is like asking Dr. Ayman Zawahiri (al Qaeda's 2n in command) for advice. They are all going to you to kill 12 soldiers and call them in the morning.
The NSA clearly intercepted Major Hasan communicating with a well established al Qaeda supporter and/or agent. The FBI was alerted and for some unknown reason decided not to investigate this. Under President Bush there would be no doubt as to what to do – ensure our safety and monitor this man.
The Obama administration either dismissed the threat or stopped the FBI from doing more investigation. Given the lameness of the excuses being floated I am thinking the latter, but the former is just as bad.
Final Update: The Long War Journal lays out the dirt on Hasan, making any sane person wonder what could have stopped stopped an FBI investigation into this tortured killer:
Here is what we know about Hasan so far:

• Hasan attended the Dar al Hijrah mosque in Great Falls, Va., in 2001 at the same time as two of the 9/11 hijackers.
• Hasan openly praised Anwar al Awlaki, who preached at the Dar al Hijrah in 2001.
• Hasan had direct email communication with Awlaki.
• Hasan openly opposed the US wars in Iraq and Afghanistan.
• Hasan told coworkers that US troops are legitimate targets both at home and overseas.
• Hasan praised the murder of two US soldiers who were killed outside a recruitment center in Little Rock, Ark., and said more such attacks should occur.
• On a web posting, Hasan said suicide bombings are justified and compared suicide bombers to US soldiers diving on a grenade to save their buddies.
• Hasan casually espoused his radical religious views to colleagues in the course of his work as a medical professional.
• Hasan was disciplined for proselytizing his radical religious views.
• Hasan gave away his Koran and other worldly good the morning before he carried out the attack.
• Hasan shouted "Allahu Akbar" before murdering troops at Fort Hood.
• Hasan conducted his attack at a center where US soldiers were processing to prepare for deployment to Iraq.
I emphasized those events that would not have been detectable by authorities in time to stop Major Hasan'smassacre, but all the other items clearly show a sound mind and true American patriot [sarcasm off]
11 Responses to "Fort Hood: Portrait Of An American Hero, A Traitor & Possible Bureaucratic Incompetence"