Jul 30 2009
Updated!
The damage is done to the Health Care proposal from the President and the liberal old guard in Congress, and to their credibility overall. The polls coming out this week are probably just the beginning of a slide that will continue through Thanksgiving. For example, there is the NPR poll:
President Obama has hit a rough patch this summer, squeezed between a lingering recession and rising questions about the health care overhaul he has made the centerpiece of his first-year agenda.

…

However, when asked about the [democrat health care] plan now moving through Congress, a plurality of 47 percent was opposed and 42 percent said they were in favor, based on what they had heard about the plan so far.

…

The first statement: "President Obama's economic policies helped avert an even worse crisis and are laying the foundation for our eventual economic recovery." The second statement: "President Obama's economic policies have run up a record federal deficit while failing to end the recession or slow the record pace of job losses."

A plurality preferred the second statement, 48 percent to 45 percent.
On the economy and health care, the dems are losing ground. Now a NBC/WSJ Poll:
Pluralities now say that the president's health care plan is a bad idea, and that it will result in the quality of their care getting worse. What's more, just four in 10 approve of his handling on the issue.

The poll also finds that Obama's overall job-approval rating has dropped to 53 percent. And it shows a public that has grown increasingly concerned about the federal government's spending as the administration defends its $787 billion economic stimulus and supports a $1 trillion-plus health-care bill.
And there is the NY Times/CBS Poll:
Americans are concerned that revamping the health care system would reduce the quality of their care, increase their out-of-pocket health costs and tax bills, and limit their options in choosing doctors, treatments and tests, the poll found. The percentage who describe health care costs as a serious threat to the American economy — a central argument made by Mr. Obama — has dropped over the past month.

…

Mr. Obama's job approval rating has dropped 10 points, to 58 percent, from a high point in April.

And despite his efforts — in speeches, news conferences, town-hall-style meetings and other forums — to address public misgivings, 69 percent of respondents in the poll said they were concerned that the quality of their own care would decline if the government created a program that covers everyone.
And there is Rassmussen's tracking of Obama: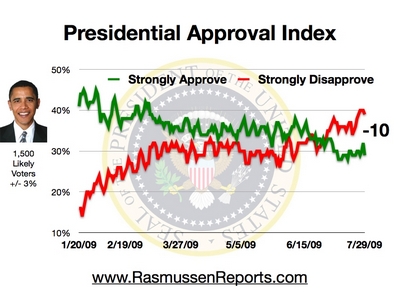 All of these are clear and broad signs that the risky (health care) and failed (stimulus) liberal policies hoisted on a pack of out right lies is starting to really concern (if not out right scare) the American people. After all their overblown promises on the stimulus and jobs which did not pan out, and then to try and claim they never made those wild claims, the Democrats have been rightfully pegged as incoherent and irresponsible.
The health care battle was a disaster of wild promises and claims while trying to sneak through a government run take over. It was so obvious that the BS coming out at press conferences had no resemblance to the provisions in the bill that the nation had a massive gestalt moment – liberals in the political industrial complex are just not be honest with us.
So far the GOP is not gaining from all this, which is not surprising. We just went through many years of a similar problem with them, which ended in their ouster from power. The political industrial complex is coming up against a newly wired and connected electorate – linked through the internet, blogs and twitter – who can ferret out their BS and communicate it to others nearly instantaneously. These ivory tower types in DC and NY City are barely realizing that the intelligence and drive of the American people, once harnessed, can also direct its clear focus on them. For all their vaulted claims of being inspired by the drive and ingenuity of the American people, they have yet to learn how to stop insulting our combined intelligence with platitudes and sound bites.
And this is why the fringes, and their simple minded solutions, are the real ones losing credibility. It is the centrists and moderates who know how America works day in and day out solving endless complex problems with teamwork and rolled up sleeves, that represent the path forward.
The rest of this year will be an interesting lesson about arrogance and hubris. The Dems will go on August break, which will see the July unemployment bad news come out, and will return in September when the August bad news comes out. And America will be rightfully at its patience limits regarding fixing the economy.
One recent story struck me as the epitome of how bad this will get for the pols and all their dishonest claims:
How much are politicians straining to convince people that the government is stimulating the economy? In Oregon, where lawmakers are spending $176 million to supplement the federal stimulus, Democrats are taking credit for a remarkable feat: creating 3,236 new jobs in the program's first three months.But those jobs lasted on average only 35 hours, or about one work week. After that, those workers were effectively back unemployed, according to an Associated Press analysis of state spending and hiring data. By the state's accounting, a job is a job, whether it lasts three hours, three days, three months, or a lifetime.
The nation is fed up with this extreme exaggeration coming from failed leaders. There will be a backlash in 2010. A massive one.
Update: Yep, there is a clear poll crash in progress, now that we have Gallup's numbers in for the day as well. Since the beginning of May, when Obama had a +42% approval, he has lost almost three quarters of that and is sitting at +11% today. Rassmussen's presidential approval index has reached an all time high of -12% today.
And as the health care approach moves to the center, the liberal wing of the Democrat Party is up in arms!
A House leadership deal with Blue Dogs and an aggressive marketing push by Sen. Max Baucus (D-Mont.) shifted the healthcare debate sharply toward centrist positions Wednesday, sparking threats of rebellion from the left.

…

The Blue Dogs' deal, which cut $100 billion from the healthcare reform price tag, was instantly denounced by Rep. Lynn Woolsey (D-Calif.), co-chairwoman of the Congressional Progressive Caucus, who said, "It's unacceptable. We're not going to vote for anything that doesn't have a robust public plan."
This is a great opportunity for the GOP to add in moderate, centrists elements to the bill (like tort reform, insurance pools, etc) and take the wind out of the liberals. It would also send a signal to America a center right conservative coalition is back from the brink of the far right and ready to lead this nation. Will they do this? 
So far I have little faith in the DC political industrial complex to do anything that makes sense from either side of the aisle.
Update: Geez, even Pew is seeing the massive slide in support.
Welcome to the Democrats' Waterloo. Those are some stunning numbers. A 17 point swing in general approval, a 26 point swing on health care and a 44 point swing on the economy since April!
As I mentioned above, two months of continuing bad unemployment results while DC is on recess will only deepen the backlash by September.
Update: And yes, the President's failures do have coat tails and are impacting the view of the two parties:
During the Bush administration, Democrats made huge gains in some important Republican areas.  For example, on the question of which party would do a better job in handling the federal budget deficit, Democrats held a 19-point advantage in a November 2005 Journal poll, a 25-point advantage in July 2007, and a 22-point advantage in January 2008.  

Now all that has changed.  In the new poll, the results have completely turned around, and Republicans hold a six-point advantage.  On the related issue of controlling government spending, in July 2007, Democrats held a 16-point advantage.  In the new poll, Republicans hold a nine-point lead.

Also in the Bush years, Democrats erased the Republican advantage on the issue of taxes.  In November 2005, Democrats held a 10-point advantage over Republicans on the tax issue.  That lead diminished over the next few years, but Democrats still held a five-point advantage in January 2008.  In the new poll, Republicans have a seven-point advantage.
2010 is going to be just like 1994.
27 Responses to "O-Bomba Poll Crash!"