Jul 17 2009
Over at Watt's Up With That (WUWT) I have been commenting on how the NOAA-GISS temperature data set is all bass ackwards. I have been noting that scientifically and statistically the data sets used to claim warming are actually the use of thousands of uncalibrated, unmonitored sensors of different types (and therefore different performance and precision) from ground sensors to overwrite the satellite data which shows no significant warming in 3 decades. I am going to just copy my comments here, but suggest folks head over and keep up with the debate.
First comment:
The truth? The truth is the alarmists have been smearing bad ground based data over more precise and temporally linked satellite data to obscure the cooling. It's easy to do statistically as I show in this post:

http://strata-sphere.com/blog/index.php/archives/9852

The point is a satellite operating for 3-6 years uses a single, calibrated and verifiable sensor to cover the globe making thousands of measurement points. A single sensor which can be checked against ground sensors which only measure the temperature for a distance of a few feet at best.

When you compare this measurement system in space to the compounding errors from thousands of uncalibrated, unverified, lower precision sensors spread thinly across the Earth's surface it is clear what is going on. Ground based sensors cannot produce a global measurement with any accuracy under a degree if the error budget was being done correctly. Each sensor has an unmeasured error, which combines to create a huge error in 'global temperature'.

A satellite sensor has a fixed error source that can be calibrated (self checked) many ways. There is only one error source, not thousands.

I mean, does anyone still do basic math anymore?
Second comment:
Manfred and Cary,

you ask how good NOAA's global data be worse than local data in Australia and elsewhere? It is simple (and trust me, I work for NASA and this is not beyond the pale). They averaged it (or smeared it) with other data to raise it up. They can rationalize why they need to over ride or lower the weighting of the cooler data. They just need to agree on some lame excuse to dilute good measurements with bad.

These people do not care. Their jobs are now tied to the alarmists, and in this economy people will do anything to have or keep a job.

Do you really think the Shuttle accidents were not caused by higher ups telling people lower down to be quiet or they can be replaced? If we government can let little tin dictators destroy two shuttles, what makes you think the properly placed idiots can't screw up some simple math with their own agenda?

Seriously. The way to fight back is to run scenarios with the same data that takes out the smearing. Make the assumption the satellite data is solid and that the ground based sensors are only there to do local validation of the sat data. What is the answer when we process the data with these assumptions, where we don't 'fill in' holes by averaging the two sets?

What does the last 3 decades look like under these assumptions. Show a range of assumptions and how they change the processing methodologies and weights and produce a range of answers.

BTW, there is no way June was the 15th warmest for the last 31 years and the 9th warmest over the last 129. Just not possible. If your math comes up with that result – it is wrong! I don't care how you average it. That's not the point. Instead of thinking about data sets with errors think about having perfect knowledge and running numbers. That can't happen with perfect knowledge. Either June 2009 is 8th, 15th or higher (if there were some warms spikes before the 31 recent years).

What the data tells me, when you get two numbers like this is the math is wrong. It could be the way the averaging is being done, but it is more likely it is how the measurement error is being handled.

As I said before, Sat data is many orders of magnitude more consistent than a bunch of sparse surface based sensors. If the surface sensors can't produce the same results as the satellite, it ain't the satellite that has the source of errors.
Third comment:
If you want to remove the ground station mess from the satellite data you begin with just the satellite data itself. The challenge there is how to handle the change over from one satellite to another, and the aging (drift) if the sensor.

My proposal would be to identify 3-6 well documented ground stations around the globe which have good performance and span all 31 years of the satellites. These are the statistical anchor points for the satellite drift and transitions. If, on average, these 6 stations indicate a life time change in Sat1's sensor from +.5°C to +1.1°C we can adjust for sensor aging. If the same 6 stations detect Sat2's bias dropping to +.3°C when it took over for Sat1 we can not only adjust for drift but transition.

The key is to only use a small number of ground reference points so you don't add mountains of sensor errors from the ground.

Once you compute a satellite only plot for the last 31 years, then you can not only compare to NOAA and GISS, you can estimate their errors and biases – even regionally. You can show how each surface sensor performed against the satellites (one Sat or across satellite)

Turn the tables, use the satellites to question the ground sensor errors and calibration. It is, in fact, the proper method scientifically and statistically. Single spacecraft sensor with known and measured performance is the only way to check the performance of thousands of independent sensors with varying precision and health.

When you do this, the NOAA-GISS anomalies are no longer global warming, but data showing how bad the ground sensors are performing! Which is the how this should have been computed in the first place.
In my mind the last comment is probably the most critical. To assess the performance of a network of sensors you use a single test source. In this case we have satellites that cover the globe and right now can be used to assess the performance of all these surface sensors. I would bet that a majority of the sensors NOAA-GISS rely on have a record of poor performance, which will be evident if we look at their measurements compared to satellite data taken concurrently in the region.
I would not be at all surprised if we learn global warming really is nothing more than a "bad data" phantom from a hodgepodge of aging and error prone surface sensors. That would be human created warming all right.
Update: More here on the difference between data sets. The one important chart (click to enlarge) to note is this one showing the difference between raw measurements and the 'processed' result – clearly showing the warming of the late 1990's was something ADDED to the raw data!
 
Even better is this chart which shows the Hansen-GISS predictions from when he first turned into a Green Chicken Little and the UN/IPCC started selling snake oil, and what actually happened: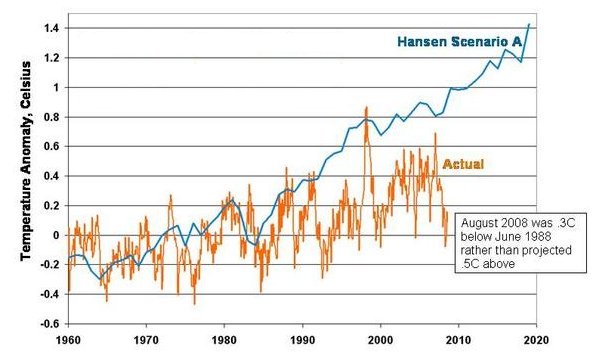 Proof positive the climate models are wrong and a pile of junk code. If this was any other area of science or engineering these people would have lost the careers as all their credibility disappeared.
8 Responses to "Validate The Global Warming Alarmists Data First!"