Jun 24 2009
CNN has what could be a major event in the evolving drama inside Iran.
A photo showing Iranian clerics prominently participating in an anti-government protest speaks volumes about the new face of Iran's opposition movement.

In a blatant act of defiance, a group of Mullahs took to the streets of Tehran, to protest election results that returned incumbent President Mahmoud Ahmadinejad to power.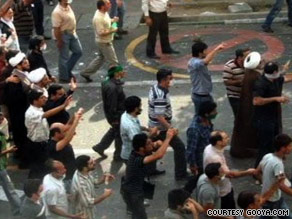 Maybe the video and images Neda Agha-Soltan's tragic death pushed some of these men over to the opposition. If Iranian clerics are openly marching against Ahmedinejad's coup d'etat, then that means the opposition movement is still gaining high level converts. As usual, watch the various military and security groups and the clerics for signs that the 21st century revolution is still alive and growing.
11 Responses to "Clerics March Against Rigged Elections, Violence In Iran"