Nov 04 2016
I am so close to predicting a landslide for Trump ….
but it will have to wait the weekend to see if the current trends hold up and the dam has broken.
The big news on Drudge today is a tied race in Michigan:
The Michigan statewide poll revealed Trump is now dead even with Clinton, in a state that has not voted for a Republican presidential candidate since 1988.

Trump and Clinton both received 44 percent support from respondents in a poll conducted Nov. 3, which was obtained by The Daily Caller News Foundation. Libertarian candidate Gary Johnson received 4 percent support, while Green party nominee Jill Stein received 3 percent. One percent of the respondents said that they were supporting someone else, and five percent said they were still undecided.
I took a glance at the RCP electoral map this morning and could not help but notice how little blue there is in it! By the time I snapped an image of it Michigan had lost its light blue coloring.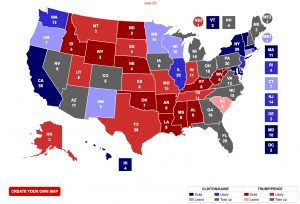 Of course, there is a lot of gray "toss-up" out there still.  But two states I have been watching (FL and CO) in terms of early voting ballots seem to show the polls are tilted a bit towards Clinton and these are not toss ups. Probably because those notoriously complicated turnout models are out of sync with what is happening on the ground. See here for my latest on Florida, and see here for my latest on Colorado.
Stay tune. If the dam has broken we will know by Monday.
4 Responses to "The Blue Is Draining Out Of The Electoral Map!"