Nov 03 2016
The source of this data is here
It is a total coincidence that I decided to unveil another Early Voting metric in a battleground state the same day a new poll comes out in that state showing the same trend:
KUSA – The race between Donald Trump and Hillary Clinton is tied in Colorado.

That's according to a poll released Wednesday by the University of Denver's Crossley Center for Public Opinion and conducted by 9NEWS political analyst and local pollster Floyd Ciruli.

Clinton edges out Trump 42 to 41 percent in a two-way race, but it's tied at 39 percent when you add in the Libertarian and Green Party candidates.
This is completely consistent with what the early voting statistics show us about party ballots submitted. The data is from October 27th – November 3rd. It shows a big drop off in Democrat early voting over time.  But before we get to that, let's look at the cumulative vote by party as reported by Colorado State: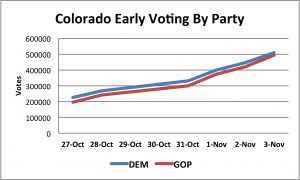 Note that from this perspective Colorado looks to be competitive between the two major parties. But that is an illusion. This is because as – as of today – the Democrats are ahead by a meager 14,181 votes, out of 1,406,573 cast. When we look at each party's percent of the total votes, a very different picture arises: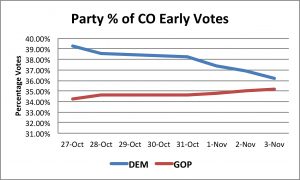 Note that combined the two parties represent about 72-73% of the votes submitted. The remainder is dominated by "unaffiliated" voters – independents. So setting those independents aside, let's just focus on how the two parties are doing as a percent of the total votes cast.
As can be seen the trend for each party is dramatically different.  The GOP percentage of the total early votes in Colorado is steady at about 35%. But the democrats  are losing ground, and quickly. Early on they dominated the GOP, but now they clearly are fading.
So it would seem that the GOP voters are more determined and consistent in their voting.
If this continues Clinton's hope of winning Colorado will also fade away.
FYI – the flat area of the line from 10/28 – 10/30 is due to the fact Colorado did not report over the weekend, so Excel interpolated between the Friday and Monday reports.
Also, according to registration numbers at the same site, the break down of the voters in Colorado for 2016 are 32% Dem, 32% Rep and 34.5% Independent. the remaining ~1.5% registered as 3rd party voters.
3 Responses to "Colorado Early Voting Shows Democrat Drop-Off 11_03_16"