Oct 28 2016
Here we are 4 days into the In-Person early voting in Florida (it runs until Nov 6th) and the tables are turning on the Democrats and Clinton. On the first day of In-Person voting, the Democrats jumped out to a 9% lead in ballots. Tuesday that lead had shrunk to 5%. It was 4% on Wednesday and today's tallies (which cover through Thursday) show that lead is now 3% (5th row, or 2nd from the bottom):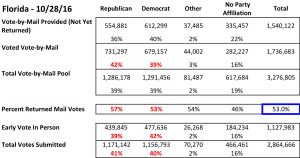 The GOP has the edge in total ballots cast statewide (bottom row), and it has the edge in mail-in ballots submitted (3rd row). The GOP is also submitting more of their mail-in ballots (2nd row), and that is with 53% of the mail-in ballots that were mailed out being returned. The mail-in percentages are about to cement into place.
By next week  I expect the GOP in FL to be in the lead in all categories, given the trend lines this week for In-Person early voting. For the record, the small GOP lead yesterday in total ballots submitted (11,725) expanded slightly today to 14,349.
That would spell defeat for Clinton in FL. You can look at opinion polls all day long, but the fact is the Democrats in 2012 needed a 3% edge in early voting ballots to eek out 0.88% win on election day. As of now it looks impossible for Clinton to even get a lead in the early voting ballots, let a lone a 3% lead.
By mid next week, we will know for sure.
BTW, I am skipping the tables for Broward and Miami-Dade for now. If the state turns to the GOP as I expect, there will be no need to focus at the county level any more.
4 Responses to "FL Early Vote 10_28_16: GOP Expands Small Lead In Ballots"