Jun 26 2012
This post extends analysis I did in a previous post.
There has been a lot of excellent analysis in the blogosphere regarding George Zimmerman's claims about the events surrounding his killing of young Trayvon Martin. Analysis clearly in line with the results of the police investigation and the prosecution's case. While there are many discrepancies throughout Zimmerman's tall tale, some are simply too big to ignore.
(1) There is no way GZ could pull his gun as described. On his back with his holster against his hip, his holster inside his waistband, while being pinned by TM who is supposedly straddling him. This position means TM"s legs are blocking access to GZ's waist area (especially if he wiggles 'downward' through the straddling legs), as well as the ground and clothing making it impossible to reach and pull a gun. In this position you cannot pull a gun on a wet and rainy night without some evidence on the gun. But the fact is GZ's elbow is too long to reach his waist since he claimed to be pinning TM's arm while attempting this trick. Impossible (see below for why)
Update: For all the doubting Thomas' out there, you can disprove this yourself.  Try and get your wallet of your pants laying on your back without raising you butt off the ground (this is within inches of where a holster would be inside a waste band).  Then have someone straddle you and try again – note where their legs are.  And finally, pin something under your right arm, have someone straddle you (with their weight on you) and try again.  While the picture above is static, your own experiment will do the trick. In the last case your elbow must bend to get to your back pocket, thus the laws of physics and biology disprove the reenactment by GZ. – end update.
(2) There is almost no GZ blood or DNA on TM. TM should be covered with blood or DNA from the punching and from the claimed suffocation attempt. But there is none.
(3) There is no TM blood or DNA on GZ, which there would be if he was shot while straddling over GZ. Blood would begin to flow and should be all over GZ.
(4) If TM was really banging GZ's head on concrete, there should be some fractures in the skull. Apparently there are no injuries consistent with multiple hard blows to the head.
(5) Finally, the path of the bullet in TM's body is not possible from the position described , and really is only possible if both men are standing AND GZ's arm is extended straight.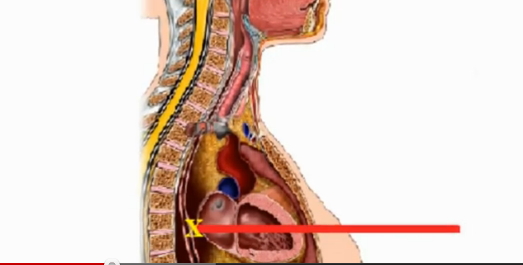 When you look at the bullet path inside TM's body it is pretty clear that this was not a shot from underneath, which would be the  angle if events transpired as Zimmerman claims. In fact, even standing the only way to get a gun that level is with your elbows locked straight out in a typical gun range position.
This post does a great job of highlighting some of these basic issues (and where I was able to collect the bullet path image)
You can't break the laws of physics/biology/chemistry – this is not a fictional world. The crime scene evidence completely destroys GZ's story, even before you get to issues like the timeline described vs the timeline recorded on the dispatch call, the lies about why GZ exited the car (to follow TM, not to read house numbers which were right in front of him). Basically, nothing beyond the fact he shot Trayvon appears to be true.
And why would GZ need to lie so much?
Because the truth is his actions led to the death of young Trayvon Martin.  That is the only reason to make up so much fiction.
117 Responses to "The Nail In George Zimmerman False Claims"