Aug 19 2010
The 'surprise' news out today that the unemployment picture is heading south again is not really a surprise to anyone who is not deluded by liberal spin. Many of  us knew over a year ago the liberal stimulus bill could never stimulate job growth as structured. We also knew the census and summer jobs bubble would not last more than a couple of months. We also knew that the U3 unemployment index was showing false-positive results (staying flat at 9.5%) since the labor force has been shrinking as people bale out for summer.
So there is no surprise that as summer ends people will try once again to find work as all those summer jobs disappear; therefore, it was no surprise to see first time jobless claims jumped by 500,000 last week. Worse, I doubt we have seen the last of this erosion in employment, because one look at the EUC (Emergency Unemployment Compensation program) rolls show the double dip is here (click to enlarge).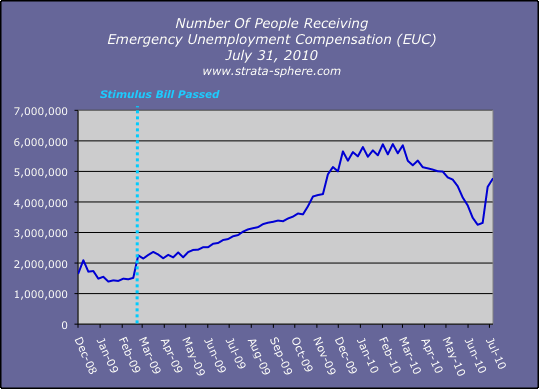 The EUC is the last vestige of help for the unemployed. To be on EUC means a person has been almost terminally unemployed, and has used up their regular unemployment and extended unemployment benefits. You can see the extended and EUC rolls reported at the bottom of the weekly DoL reports (see link above). EUC rolls are a frightening predictor of economic pain to come.
As can be seen in the above graph, pulled from data in the weekly DoL reports, the EUC began skyrocketing last fall, after a steady rise that began when the liberal stimulus bill was passed. Then in March of this year, the EUC rolls began to shrink from a high of nearly 6 million souls down to just over 3 million in June and July. That is the summer job effect I would suspect, enhanced by the census job bubble.
But look what has happened in July. On July 10th, the the EUC hit a low of 3.25 million people, a level not seen since September 2009. But in the last 3 weeks of the month the EUC rolls jumped by 1.5 million to hit 4.75 million. Is this going to continue through August? Most likely since the EUC data lags the weekly data by about 2 weeks. We won't see the EUC data concurrent with last week's 500,000 jump in initial claims for another two weeks. But the path of that line is pretty damn clear.
Obama-Pelosi-Reid economic policies are producing the results many of us feared, and it is real Americans taking the brunt of these horrid and naive missteps by the left. For Democrats expecting support from the voters this fall they can just forget about it. Next read the bills and understand them instead of voting like mindless Manchurian puppets.
Update: Ed Morrissey has a good take on all this 'surprise' too.
5 Responses to "Unemployment Picture Much Worse Than People Think"