Dec 03 2009
The Obama administration is going to put on a show today for America. It is going to attempt to convince us that they are doing something about the abysmal jobs situation. It will be nothing but theatre and stage craft.
Since the liberal stimulus bill was passed in February 2009, the Unemployment and Underemployment situation in the country has grown worse and worse. As of October the unemployment rate (U3) hit 10.2% and the underemployment rate (U6) hit a staggering 17.5%: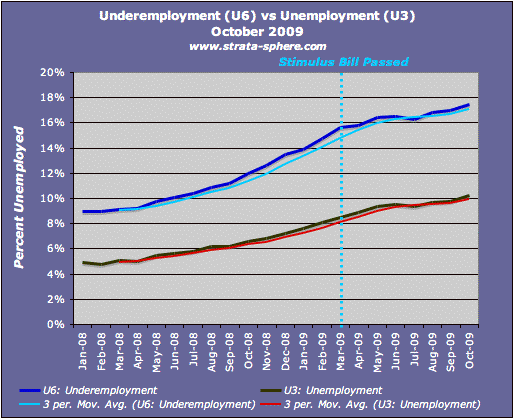 But that is not the complete picture. One area the news media ignores are the expanding ranks of Americans clinging to the last life line for the critically unemployed – the Emergency Unemployment Compensation (EUC) benefits. The data on this program are never produced on a monthly basis, they are only reported in the weekly unemployment rates from DoL, which I have been tracking for some time now.
This week we see another sharp rise in the EUC, which is a strong indication the November unemployment numbers are going to jump again.
Since the stimulus bill was passed 2.4 million Americans have had to take financial sanctuary in the EUC. Just under 4 million Americans are now on EUC – a historically high number I suspect.
Access to the EUC only comes after the all the normal unemployment benefits have run their course. This statistic makes clear the economy is not creating jobs (or else this pool of out of work workers would be shrinking, not growing). The EUC has seen a 163% increase since Feb of 2009.
The stage craft being put on today by the White House is meant to hide the real data on jobs. It is meant to divert America from the real economic disaster which still continues to spread across the land.
3 Responses to "Jobs Summit Day: 2.4 Million New People On Emergency Unemployment Compensation"