Nov 06 2009
As I noted yesterday the topic driving the electorate is the unemployment, which shot up dramatically again in October:
The United States economy shed 190,000 jobs in October, and the unemployment rate reached a 26-year high of 10.2 percent, up from 9.8 percent in September, the Department of Labor said Friday in its monthly economic appraisal.

While the pace of job losses has slowed significantly since the peak of the recession last winter, the unemployment rate, which measures the number of people actively seeking work, continues to climb, and economists do not foresee relief until well into next year.
There will be no relief because the stimulus bill is a liberal fiction, government cannot spend any significant money in any short period to impact an economy it basically lives off of..
The unemployment numbers that came out for October were pretty bad at 10.2% (red lines – U3 – in the chart below), which was another 26 year high . When we look at the underemployment rate (blue lines – U6) we find an even more tragic 17.5%. (Click to enlarge)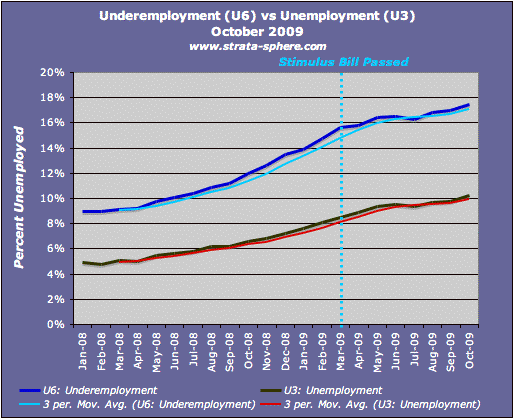 The government defines the two metrics U3 and U6 thusly:
U3: Total unemployed, as a percent of the civilian labor force (official unemployment rate)
U6: Total unemployed, plus all marginally attached, plus total employed part time for economic reasons, as a percent of the civilian force plus all marginally attached workers
What is clear from the graph is we have passed the summer, part time job lift and are once again losing jobs. Not at the same rate as last spring, but there is no economic recovery for the the voters, and there will not be for some time. While the Administration touts misinformation on jobs created/saved, the reality is over 2,000,000 have been added to the EUC rolls, the last slice of safety net available from the government for the fatally unemployed. (click to enlarge)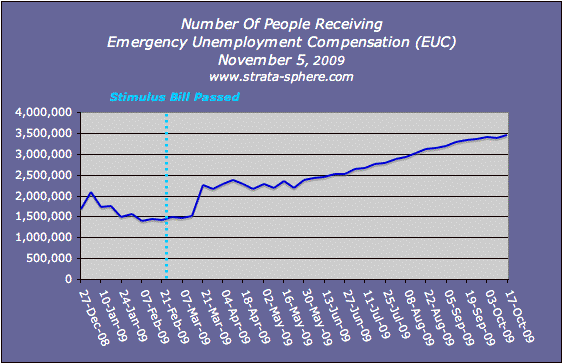 This jump in unemployment came in the face of so called 'good news' on weekly first time jobless claims (still running over 500,000 per week!)
If the Democrats do to our Health Care system what they did to our nation's employment picture, we are all going to be in for a world. of hurt. And it is clear the Democrats are heading into an electoral disaster in 2010 that will make 1994 look mild in comparison. In 1994 the one saving grace for the Democrats and Clinton was the economy had been turning around for 2+ years. That will not be the backdrop for the 2010 cycle.
The nation will now be going through Thanksgiving, Christmas and New Years with little to celebrate and little hope. And they will be turning their fear and anger on those who screwed up and did not make good on their promises.
14 Responses to "Obamanomics Still An Abomination"