Jun 13 2008
Many weeks ago I predicted Obama would not get much of a bump out of his nomination, and in fact would start to fade as sufficient numbers of Clinton supporters (mostly older woman) made good on their threats and bolted the Democrats after the beating Hillary took at the hands of male liberals. Â  The bump took longer to show up than I predicted (oh well, nobody's perfect), but it was short and shallow all the same. Â You can see it in the Gallup daily tracking poll: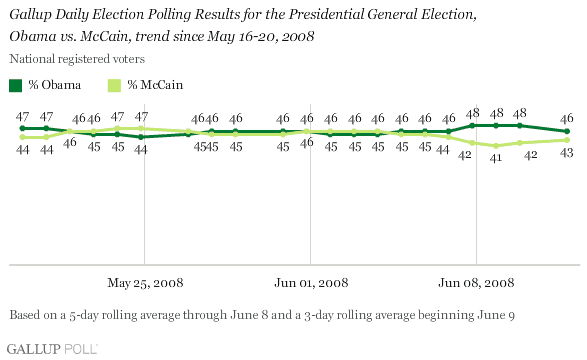 A few of our die hard liberal posters are welcome to ponder this graph as they eat their crow (if you want to see the larger original simply click on the graph). Obama never got very far above the Margin of Error (MoE), which for Gallup is +/- 2%. His seven point lead really was statistically a 3-4 point bump once you factor in the MoE. Right now it is back to a dead heat.
Well, my timing was off, but the result is the same. Gallup was off-line one day due to power outages in certain regions so my guess is there is more downward movement yet to show up in later polls. I should note this is not a one poll phenomena – just check the RCP polls for the last week. We shall see, but Obama is not doing very well – that much is becoming quite clear.
Update: Maybe the reason Obama is doing so badly is because of this!
Angered by what they consider sexist news coverage of Senator Hillary Rodham Clinton's bid for the Democratic presidential nomination, many women and erstwhile Clinton supporters are proposing boycotts of the cable networks, putting up videos on a "Media Hall of Shame," starting a national conversation about sexism and pushing Mrs. Clinton's rival, Senator Barack Obama, to address the matter.
Well, we seem to need a 'hall' for the hall of shame and I am willing to put a page up with the You Tube videos anyone wants to pass along in the comments page. I would love to see a compendium of the liberal news media bashing a liberal woman – we need demonstrable proof of the kind of people who inhabit the news media and pass around nasty and inaccurate rumors about other Americans trying to do their job or the best they can for their country.
Send me your links and the hall will be built!
Update:  Just wanted to note the huge drop off in one poll in RCPs list of polls.  IBD/TIPP one month ago had Obama +11.   This week Obama was down to +3, which is a huge drop in one month.  Yep, Obama is doing really well!
 
 
8 Responses to "Obama's Bump Turns To A Slump"