Sep 11 2010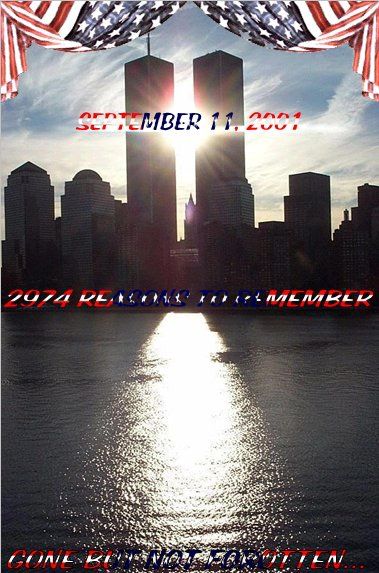 I was not sure what to say this year on this 9th anniversary of 9-11. The nation is in a rut and heading down a bleak path. The political front is anything but serene or positive. And we have Americans who want to recognize this national day of memorial with book burnings, to show they are as intolerant and insecure as the Islamo Fascists that brought us 9-11. I seriously doubt those who have given their lives in our cause on that day in September 2001, and every day since, were fighting so we could become as fanatical and brutal as our enemies. Though many factions on the political fringe do tend to flirt with crossing that line. Maybe it is about time we expected more from ourselves, and demanded it in others.
I think I want to note on this 9-11 what we may have lost since we let go of our collective outrage and fear in the days, months and years after 9-11. We drifted from a sea of American flags unified in cause despite our differences, back to the mindless fight of the hyper partisans who keep trying to yell and brow beat the other side into submission. Under our system of individual rights and our demonstrable will to chart our own individual paths – at times with enormous success and failure – submission to one group's views of right and acceptable will never happen. Not without the heart of this nation being ripped out in the process. Why can't we all be what we want to be, and let others do the same? Why can't we stop trying to use government to control.
I want to recognize what I see as a brilliant piece of writing by Instapundit this week, the esteemed Glenn Reynolds. Glenn wrote about the double standard of the hyper partisan, how one side thinks it can rip the other, then acts all hurt when the tables are turned.
Filthy. Parasites. Disgusting, overbreeding candidates for sterilization and extermination. Possessed of false morals and a "breeding culture."

Hitler talking about the Jews? Nope. This is Discovery Channel hostage-taker James Lee talking about … human beings. Compared to Lee, Hitler was a piker, philosophically: Der Fuehrer only wanted to kill those he considered "subhuman." Lee considered all humans to be subhuman.

Lee was a nut, an eco-freak who said he was inspired by Al Gore's environmental scare-documentary, "An Inconvenient Truth." His badly written "manifesto" underscores his craziness. He hated "filthy human babies."

…

Policing the science is likely to prove difficult. But policing the rhetoric — as American society has long done with expressions of racial hatred or genocidal sentiment — seems well within reach.

In contemporary America, no respectable person would advocate, say, the involuntary sterilization of blacks or Jews. Why, then, should it be any more respectable to advocate the involuntary sterilization of everyone? Or even of those who cause "social deterioration?"

Likewise, references to particular ethnic or religious groups as "viruses" or "cancers" in need of extirpation are socially unacceptable, triggering immediate thoughts of genocide and mass murder.

Why, then, should it be acceptable to refer to all humanity in this fashion? Does widening the circle of eliminationist rhetoric somehow make it better?
Maybe it is time we started acting like professional adults and stopped calling each other names and smearing their reputation without proof or cause? Maybe we should shun those who cannot control themselves, and remind those who occasionally wander into the cesspool that real patriots are able to make their case without smearing and demeaning the opposing side. Maybe it is time we stop obsessing about humanity as evil.
It is over the top rhetoric, and I am as guilty as anyone else in employing it on occasion. It is sadly easy to paint with a broad brush when discussing motives. Which is why I try to stay focused on results not motives, like failed stimulus bills or government run health care that fails to provide high quality services or save money. As an engineer I am used to having my ideas shot at, and to do some serious shooting at the ideas of others, without it ever being personal. To be able to debate ideas, explore the positives and negatives, to be spectacularly right one moment and just as spectacularly wrong the next, and to do so while never feeling lesser or seeing your fellow debaters as lesser is the signature characteristic of a wise  person. We have lost that skill. The slightest difference is an affront. Religion is an affront. Believing President Obama made a mistake is an affront. Living is an affront to nature.
We have become crass, smart lipped, rude and elitist in our echo-chamber cliques. Sadly, all these are signs of insecurity and arrogance. We don't need to sink to the lowest rung on the ladder all the time.
I was pondering what I thought and might write about this 9-11, and I went back to look at other anniversary posts I wrote. I was stunned to realize there were so few (out of 1000's I wrote about 9-11 and its aftermath). Â They are interesting for me, a reminder of the political battles that raged inside the nation as we fought off our enemies outside. They only reminded me that we once were much more unified as a people, more optimistic, more energized.
Below are the posts for anyone interested. I am especially fond of the post where bloggers had to research and write about one of the thousands of 9-11 victims. It was an amazing collective act of patriotism I was proud to be a small part of.
Come this November, when DC is cleared again of hyper partisans run amok and lost in their little power trips, we can begin to refocus our energies. This time not on war or tearing each other down, but on building a better future here in America, in Iraq and in Afghanistan (since we have to finish what we started).
After all, isn't that what we would all prefer to be doing with our lives?
Beginning A Long Farewell With A 9-11 Salute To President George W Bush – 2008
Anniversary Of 9-11 – 2007
Paul Laszczynski, 9-11 Hero – 2006
You Can Never Go Back – 2006
11 Responses to "Remembering 9-11"